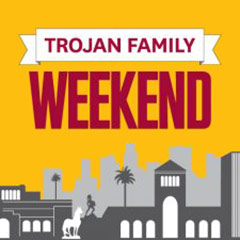 Thornton welcomes Trojan families for Trojan Family Weekend
Through Sunday, October 9th, USC Thornton welcomes Trojan parents and families to our campus for the annual Trojan Family Weekend. You can find the full list of exciting events, including concerts, a football game, mixers, lectures, and open houses on the official schedule.
USC Thornton is hosting the following events for Trojan Family Weekend. Please keep in mind that registration may be required at tfw.usc.edu.
---
THORNTON: THE INSIDE SCOOP
Thursday, October 6 from 1:30-2:20PM • Ronald Tutor Campus Center, Rm. 227
Get the inside scoop firsthand from Dean Robert Cutietta, Assistant Dean for Admission and Student Affairs Phillip Placenti, and the Division of Contemporary Music's Director of Industry Relations Michael Garcia as they discuss the programs and initiatives at USC Thornton that are transforming our student musicians' experience through new career programs, a revolutionary study abroad program, and the leading edge Musicians Wellness Initiative.
DEAN'S BREAKFAST RECEPTION
Friday, October 7 from 8:30-10:00AM • USC University Club
Join Dean Robert A. Cutietta and fellow Thornton parents for conversation and a hot breakfast. RSVP required. For questions or to confirm your RSVP please call 213-740-6474 or email music.rsvp@usc.edu.
EXPANDING YOUR MUSICAL CAREER OPPORTUNITIES
Friday, October 7 at 11:30AM • Ronald Tutor Campus Center, Rm. 352
Building your career in music might not just be about the next performance opportunity! Explore revamped, current graduate programs as well as new cutting edge graduate degrees launching soon with faculty members Paul Young (Music Industry), Dan Carlin (Screen Scoring) and Peter Webster (Music Teaching & Learning) in a panel discussion led by Dean Cutietta. This panel event will be the perfect opportunity to learn what opportunities lie ahead as your student prepares to build a successful career in music!
POPULAR MUSIC FORUM
Friday, October 7 at 2:00PM • Taper Hall of Humanities, Rm. 101
Sit in on one of the Popular Music program's most engaging classes, which features accomplished guest lecturers and well-known visiting artists from the music industry each week. This week, the forum features Steve Schnur, President of Music for Electronic Arts video games. This event is exclusive to Thornton Parents.
CONCERTS
On Thursday night, join the USC Thornton Jazz Orchestra at Jazz Night (Oct. 6 at 7:00PM, Ground Zero Performance Café). Friday, the USC Thornton Wind Ensemble presents a concert program of classic repertoire, from Ludwig van Beethoven to Ralph Vaughan Williams (Oct. 7 at 7:30PM, Bovard Auditorium). Also on Friday, the USC Thornton Baroque Sinfonia presents a program of virtuosic music from seventeenth-century Italy, "In stile moderno" (Oct. 7 at 8:00PM, Alfred Newman Recital Hall).