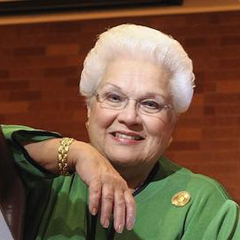 University of Pittsburgh to build museum honoring Marilyn Horne
The University of Pittsburgh's Board of Trustees has approved the creation of a museum and exhibit center honoring opera legend and USC Thornton alumna Marilyn Horne.
The mezzo-soprano was a recipient of the 1992 National Medal of Arts and the 1995 Kennedy Center Honors. She has also won four GRAMMY Awards for Best Opera Recording. Horne made her debut at the Royal Opera House in 1964, and since then has performed around the world.
Horne is celebrated as "one of the world's most renowned opera singers." After donating her archives to the University of Pittsburgh, the school announced a $5.7 million project that will include classroom space, a recital area and a cafe, along with building-infrastructure upgrades and an engaging collection of Horne's history as a singer.