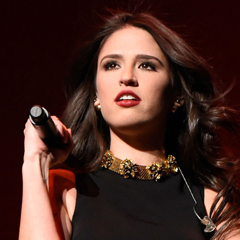 Up-and-coming pop singer Rozzi Crane discusses new projects
Last month, Teen Vogue published a profile of USC Thornton alumna Rozzi Crane, a rising pop star. The site premiered Crane's latest music video, "The Thought of You," the second song on her EP, Time. Vogue praised the singer's "unique, full voice" and told readers to expect Crane to continue to dazzle the popular music world with her newly launched solo career.
Previously, Crane juggled her studies at Thornton with performing gigs as a background vocalist for artists, such as Lauryn Hill, Outkast, Destiny's Child and Amy Winehouse. After only one year at Thornton, she was touring the United States, Europe and Japan with The Eagles' Don Henley and Brazilian star Sergio Mendes. Crane became the first artist signed by Adam Levine to his label, 222 Records, and her first single, "Crazy Ass Bitch," featured Grammy award-winner Kendrick Lamar. Almost immediately after releasing her first EP, Crane took to the road to tour with Maroon 5 as a featured performer.
Crane's feature in Teen Vogue comes on the heels of similar attention in Seventeen Magazine, M Magazine and USA Today.