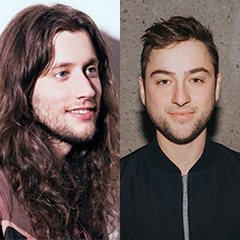 USC Thornton alumni named to Variety's "Hollywood's New Leaders" list
USC Thornton alumni Ludwig Göransson (GCRT '08) and Justin Lubliner (BS '12) were named two of Hollywood's New Leaders by Variety. The list showcases the newest generation of leaders and change-makers across the entertainment industry under the age of 40, including agents, creatives, producers, and more.
Lubliner is recognized for his achievements as the founder of Darkroom Records, an imprint of Interscope Records that he started building as an undergraduate student in Thornton's Music Industry program. In 2015, Lubliner signed then-newcomer Billie Eilish to the label, and has since helped develop her GRAMMY-sweeping career.
Göransson, a graduate of Thornton's Screen Scoring program, is recognized for his rapid success as a composer and producer. "In just six years, Göransson has rocketed from fledgling composer to Oscar-winner and triple GRAMMY honoree with an Emmy win on top of that," Variety writes. He has scored major motion pictures, including Black Panther, for which he won an Oscar and a GRAMMY Award, and produced music for major artists like Childish Gambino, with whom he won two GRAMMY Awards for "This Is America."