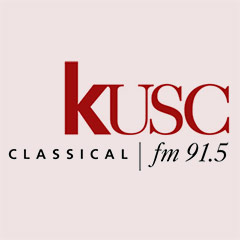 USC Thornton artists featured in KUSC's "Play On, California!"
In a daily broadcast and online feature titled "Play On, California!" Classical KUSC highlights the work California musicians and arts organizations are doing to continue sharing music and create online experiences for audiences while live concerts remain halted. The feature highlights USC Thornton's Live! From Somewhere series, and the work of various Thornton alumni and faculty.
Among the USC Thornton alumni and faculty featured for their continued work are: the Los Angeles Master Chorale, led by Artistic Director, alum Grant Gershon (BM '85); Composition faculty member Ted Hearne, who presents a digital premiere of a new work, "Place," with the Los Angeles Philharmonic New Music Group; the Calder Quartet, comprised of Thornton alumni Benjamin Jacobson (BM '01, MM '07), Jonathan Moerschel (BM '01, MM '03), and Eric Byers (BM '03); and chamber orchestra Delirium Musicum, founded and directed by alum Etienne Gara, and including a number of alumni musicians.
KUSC updates "Play On, California!" daily with new artists and organizations whose work can be enjoyed from home.