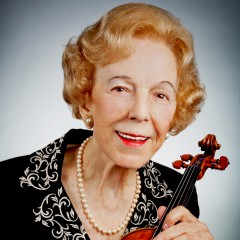 USC Thornton community honors Alice Schoenfeld
On Sunday, July 28, the USC Thornton community celebrated the life of acclaimed violinist, teacher and philanthropist Alice Schoenfeld, Emerita Professor of Violin at USC Thornton, who died last May. Of those in attendance, over 50 were former students of Alice or her sister Eleanor Schoenfeld, who was also a longtime USC Thornton professor of cello. The USC Thornton alumni, now scattered at top ensembles and educational institutions across the country, came to pay their respects to their beloved mentor and to perform in her memory. After touching soloist performances and speeches, the service concluded with former students coming together to form a string orchestra and playing two of Bach's most memorable works.
Violinist.com recapped the memorial with videos of many of the performances.