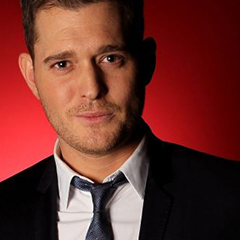 Jazz Studies faculty and alumni collaborated with Michael Bublé on chart-topping holiday album
This month, Michael Bublé's tenth anniversary edition of Let It Snow! topped Billboard's Adult Contemporary Charts. The album features arrangements by Thornton Jazz Studies Department Chair Jason Goldman (BM '04) and features several Thornton alumni including pianist Alan Chang (BM '02), trumpeter Bryan Lipps and drummer Robert Perkins (BM '97, MM '02).
USC Thornton faculty and alumni have been members of Bublé's band from its inception – Goldman and Chang served as Bublé's band when he was still a relatively unknown singer, and the pair performed with Bublé on his first tour. Chang has worked as Bublé's music director and songwriting collaborator ever since. Bublé's ninth studio album, 2016's Nobody But Me, features a host of Thornton musicians assembled by Goldman.