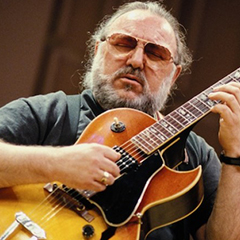 USC Thornton remembers jazz guitarist and former studio guitar faculty member Joe Diorio
Jazz guitarist and former USC Thornton Studio Guitar program faculty member Joe Diorio passed away at the age of 85 on Feb. 2. During his career, Diorio established himself as a fixture of the American jazz scene, playing with Sonny Stitt, Hal Crook, Anita O'Day, Jaco Pastorius and Freddie Hubbard, among others.
Diorio was inspired by his uncle to start playing guitar when he was 15, and he began formal studies of the instrument in his native Connecticut in the 1950s. After playing in a few local bands, he moved to Chicago and immersed himself in the city's jazz scene, where he played with artists like Eddie Harris and Bennie Green. The late 1960s saw Diorio move to Miami to join Ira Sullivan's quartet. In the late 1970s, Diorio moved to Los Angeles and became one of the first instructors at the Guitar Institute of Technology. He began teaching at the USC Thornton School of Music in 1984 and continued to work with students until 2007.
Over the course of his career, Diorio recorded 19 albums and wrote 14 instructional books including Intervallic Designs for Jazz Guitar: Ultramodern Sounds for Improvising and Giant Steps.