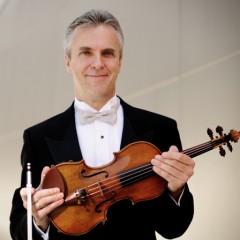 Violinist, faculty member Martin Chalifour receives strong reviews for LA Phil performance
Violinist and USC Thornton Strings faculty member Martin Chalifour performed as the Concertmaster for the Los Angeles Philharmonic's March 31st "From Bach to Schubert" performance and received warm reviews from the Los Angeles Times. Chalifour was featured alongside violinist Nathan Cole during the Bach Concerto for Two Violins and a brief Sinfonia in D and performed the Haydn Sinfonia concertante alongside oboist Ariana Ghez, bassoonist Whitney Crockett and cellist Robert deMaine. The Times praised both his performance for its "incisive virtuosity" and the performance as a whole, saying that it "bodes well" for conductor Gustavo Dudamel's upcoming Schubert symphony series next May.
Chalifour has been the Principal Concertmaster of the Los Angeles Philharmonic since 1995. He received a Certificate of Honor at the Tchaikovsky Competition in Moscow and is a laureate of the Montreal International Competition. He has performed as a soloist with conductors such as Pierre Boulez, Charles Dutoit and Christoph Eschenbach and with groups such as the Auckland Philharmonia, the Montreal Symphony and the Hong Kong Philharmonic. He is often featured in summer festivals, such as the Sarasota Festival and the Mainly Mozart Festival, and retains close ties to his home country of Canada, where he recently performed with the Vancouver Symphony and Bramwell Tovey.