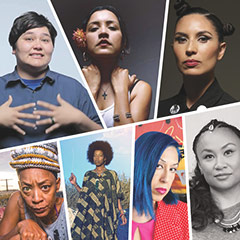 Visions & Voices to present "Artivistas" concert celebrating socially-conscious female artists, March 1st
On March 1st, USC Visions & Voices will present ARTIVISTAS: A Concert Inspiring Resistance, Empowerment, and Social Change, featuring a lineup of female artists whose music spans R&B, hip-hop, Latin, alternative, punk, and beyond. The performance will celebrate the work of "artivistas" (artist/activists) creating art and music with a focus on resistance, empowerment, equality, and social justice.
Artists will include punk rocker Alice Bag, future-soul singer Georgia Anne Muldrow, GRAMMY Award-winning Chicana singer/songwriter Martha Gonzalez, hip-hop artist Medusa, artivist Maya Jupiter, Pinay poet Faith Santilla, and cultural space-maker Alison De La Cruz.
A free RSVP is required for this event, which takes place Thursday, March 1st at 7:30PM at USC's Bovard Auditorium.