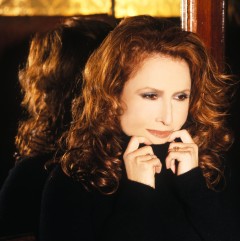 Vocalist Melissa Manchester hits the road on international tour
Melissa Manchester, GRAMMY Award-winning vocalist and faculty member in the USC Thornton Popular Music program, is hitting the road on an international tour, beginning this month in Palm Beach, Florida. The tour, which will continue on to the Philippines, Washington state, New York, Las Vegas, and beyond, will feature songs off of her 2015 album, "You Gotta Love the Life," which included performances from renowned artists, such as Al Jarreau and Stevie Wonder.
Manchester discussed the upcoming tour with Naples Illustrated magazine, in anticipation of her first performances later this month. Reflecting on her prolonged absence from the music industry, she credited her USC Thornton students with helping to put her back on the international stage. "It took me a long time to find my way back in," she said. "My students helped me find my way back into the world of independent artists. One of my students became my campaign manager when I started an Indiegogo [crowdfunding] campaign for this album."
Manchester will take a break from teaching at USC Thornton during her tour, which continues through June.