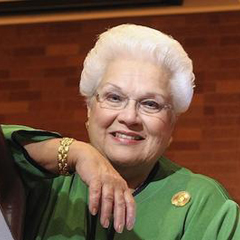 Marilyn Horne celebrated at Music Academy gala
USC Thornton alumna Marilyn Horne was honored at a gala concert on June 4, 2016 at the Music Academy of the West in Santa Barbara, where she is director of the Voice Program. The concert, which opened the Academy's 2016 Summer School and Festival, featured performances by vocalists Simone Osborne, Isabel Leonard, Ben Bliss, and Quinn Kelsey under pianist and conductor Speranza Scappucci, and celebrated the grand opening of the Marilyn Horne Main House on the institution's campus.
Construction is currently underway on a museum honoring Horne's legacy at the University of Pittsburgh, to which she donated her personal archives. The museum is scheduled to open in the spring.