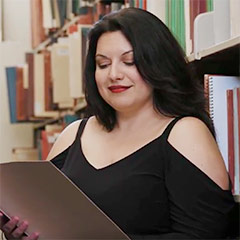 Accepting applications for the Kerže Scholarship
The American Slovenian Education Foundation (ASEF) recently announced the 2019 Kerže Scholarship fund for Slovenian music students at USC Thornton. The scholarships give Slovenian students the opportunity to travel to the U.S. to study at Thornton while enabling research and innovation between the two countries.
Five students are currently benefiting from these scholarship funds, including three Vocal Arts majors, a cellist, and a classical guitarist.
Cellist Klara Krklec and singer Irena Preda (MM '18) have both enjoyed many opportunities to perform at Thornton. Preda sang the lead role in Dominick Argento's Postcard from Morocco last Spring. Another Vocal Arts student, Tina Šilc will sing a lead role in this semester's opera production of L'enfant et les Sortilèges by Ravel while undergraduate vocalist Iris Bečaj will perform in the chorus. Classical guitarist Mak Grgic (MM '12, DMA '16), another scholarship recipient, recently opened for artist k.d. lang on a national tour. He released an album featuring re-fretted instruments to reexamine standard repertoire, and he's launched the interdisciplinary Festival M.A.R.S. in Los Angeles.
"Without the support of the funds I could never experience this incredible cultural exchange," Bečaj said.