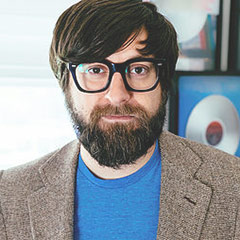 Alumnus Jacques Brautbar featured in KQED's "Film School Shorts"
USC Thornton Screen Scoring alumnus Jacques Brautbar ('15, GCRT '16, Screen Scoring) was recently profiled by "Film School Shorts," a national series showcasing student filmmakers by San Francisco's KQED Public Television.
In the piece, Brautbar recounts his non-traditional career path and provides valuable insight into the balance between creative artistry and effective collaboration in the screen scoring process. Brautbar, who rose to prominence as a member of the band Phantom Planet, returned to USC to pursue his love of film composition.