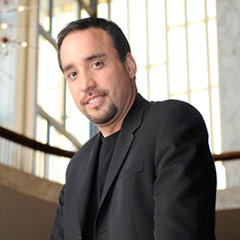 Alumnus Richard Bernstein celebrates 400th performance with Met Opera
On Saturday, January 27th, 2018, Richard Bernstein ('89) will reach a professional milestone with his 400th performance with the Metropolitan Opera in New York City in a production of Puccini's Tosca. The operatic bass and alumnus of the USC Thornton Vocal Arts & Opera program debuted with the company in 1995 and has since performed more than 30 roles, including Leporello in Mozart's Don Giovanni, Lord Krishna in Philip Glass's Satyagraha, and the title role in Mozart's Le nozze di Figaro.
In 2016, The Metropolitan Opera's general manager, Peter Gelb, recognized Bernstein with an award for his 20th year as a solo artist with the company. Several high-profile guests were in attendance, including Placido Domingo, who has performed with Bernstein on many occasions and with whom Bernstein debuted in Los Angeles 26 years prior.