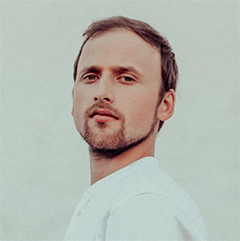 Andris Mattson of Moonchild remixes Sara Gazarek's "Cocoon"
Andris Mattson (BM '13), Jazz Studies alum and one third of neo-R&B trio Moonchild, recently released a remix of Björk's "Cocoon" performed by Jazz Studies faculty member Sara Gazarek, skillfully merging faculty and alumni talent. Though Mattson primarily performs with Moonchild, a band of Jazz Studies alumni, he also releases music independently.
Gazarek originally recorded her acoustic cover of the Björk song for her latest album, Thirsty Ghost. "Andris so beautifully captured the romance and sensuality of this song in his remix," Gazarek says. "It was thrilling to hear his voice in this music, and his take on this particular arrangement."
Listen to Mattson's remix below.