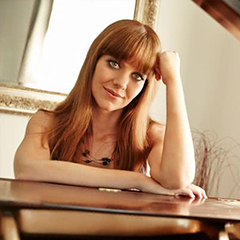 Angela Little talks Screen Scoring with Spectrum News
Screen Scoring alum Angela Little (MM '19) was featured on Spectrum News this week, discussing how making the move to Los Angeles to attend USC Thornton helped propel her career as a composer. Originally from Australia, Little knew USC Thornton's reputation and connection to the industry would bring her closer to her goal of becoming a film composer, but making the move felt like a daunting step. Little says, however, that the "family" she made at Thornton made the transition worthwhile.
"I knew that [the Screen Scoring program] was connected to the industry here in a way that no other program in the world is," said Little. "The tutors and mentors that you could work with in that program were literally at the top of the field and I'd always kind of dreamed of having that kind of input and influence on my work and my own career."
Since earning her master's degree in 2019, Little has composed for television shows and films such as Baz Luhrmann's "Australia," and the short film "For the Girl in the Coffee Shop," for which she won the AGSC Screen Music Award for Best Music for a Short Film.