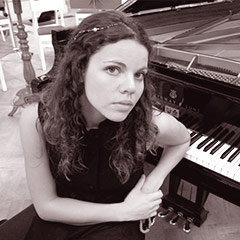 Anna Drubich's "Kaddish" to open Babi-Yar commemoration in Kiev
A composition by USC Thornton Scoring for Motion Pictures and Television alumna Anna Drubich (GCRT '12) will be featured at the commemoration of the 75th anniversary of the Babi-Yar Holocaust massacres in Kiev, Ukraine. Drubich's Kaddish, an 11-minute concerto for cello, Tibetan singing bowl, timpani, and strings, will feature cellist Evgeny Tonkha as soloist.
Drubich has composed music for television, film and theater. She financed the writing and recording of Kaddish, which is a Jewish hymn, through a Kickstarter campaign in 2015, garnering support from many international composers and musicians. The completed recording can be heard below.
Kaddish will open the September 29th commemorative concert in Kiev, which will be attended by President Barack Obama and German Chancellor Angela Merkel, among other dignitaries.