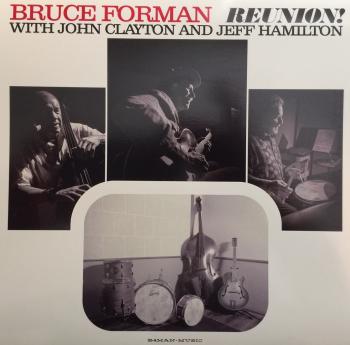 Thornton Studio Guitar faculty member Bruce Forman releases "REUNION!" album
USC Thornton Studio Guitar faculty member Bruce Forman recently released his newest project, REUNION!. For this album, Forman collaborated with renowned bassist John Clayton and jazz drummer Jeff Hamilton to pay tribute to each of their respective mentors: Barney Kessel, Ray Brown and Shelley Man, also known as The Poll Winners.
Throughout the entirety of the album, Clayton, Forman and Hamilton each play an instrument that used to belong to their mentor. "For us, the REUNION! project is like kids getting together and playing their parents' instruments," said Forman. "It is also a story of how John and Jeff and I are tying our love of Jazz from the past to the present, all while keeping a willful and loving eye to the future."
The album was released on October 17, which would have been Barry Kessel's 98th birthday.