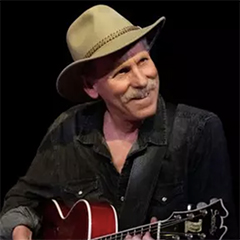 Bruce Forman takes one-man show to New York City
Studio Guitar faculty member Bruce Forman is taking his one-man show "The Red Guitar" to New York city this November. After playing more than 100 shows in cities around the world, Forman will be bringing the show to Broadway's The Green Room 42. "The Red Guitar" uses the power of jazz to combine provocative story-telling and comedy into one musical show.
"The Red Guitar" showcases Forman's ability to blur genre lines, improvise, and create, all within a classical form. Forman describes the show as improvisational, since he alters each show to the audience and venue. "I'm particularly excited to bring this to the New York theater community, because it transcends the boundaries of the jazz music experience," Forman says. With his show, he aims to connect with audiences and give them insight into what makes musicians tick.
Forman is an acclaimed master guitarist who has played and recorded with stars such as Ray Brown and Bobby Hutcherson.