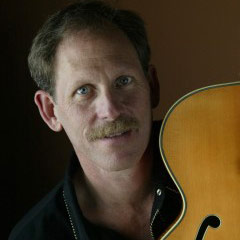 Bruce Forman's jazz trio profiled in Glendale News-Press
USC Thornton faculty member and internationally acclaimed jazz guitarist Bruce Forman will perform with his jazz trio on Aug. 26, at Burbank's Viva Cantina. The group, known as Bruce Forman's Trio, will perform songs from their latest album entitled "The Book of Forman," which the Glendale News-Press has already lauded for its fierce and authentic sound that infuses a blues-inspired melody with a 70's rock band persona.
The trio, comprised of drummer Marvin Smitty Smith, bassist Alex Frank and Forman on guitar, was formed in 2014. Since then, the group has toyed with compelling musical fusions and assigned an eccentric, hard-rock personality to Forman's jazz numbers. The trio fondly refers to this creative process as "Formanism," wherein they transform Forman's original pieces through an organic blending of styles.