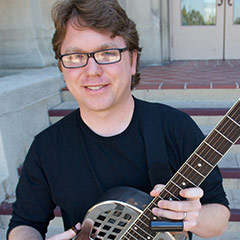 Chris Sampson interviewed by The Sound 100.3 FM
Chris Sampson, Vice Dean of Contemporary Music at USC Thornton, was interviewed on The Sound 100.3 recently about Thornton's innovative Popular Music program, of which he is the founding director. Sampson spoke about his tenure at USC, his experiences working with award-winning Contemporary Music students, and the musical icons that he has invited to perform and lecture as part of Thornton's ongoing artist forums and seminars.
Sampson has organized forums with artists such as Glen Ballard, Randy Newman, Steve Miller, and John Fogerty, among many others, and seeks to create opportunities for professional musicians to advise students, to help design and develop curricula, and to contribute to career-launching initiatives in the Popular Music program.
The fruits of Sampson's efforts will be on display on Sunday, March 6th, as the senior class of the Popular Music program perform their annual Senior Showcase concert at the legendary Troubadour nightclub in West Hollywood.