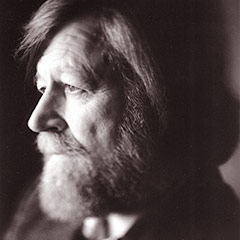 Composer Morten Lauridsen to receive ASCAP Foundation's Life in Music Award
Morten Lauridsen, Distinguished Professor of Composition at USC Thornton, will receive the ASCAP Foundation's Life in Music Award "for his distinguished contribution to the American choral tradition." The foundation, which is the philanthropic arm of the American Society of Composers, Authors and Publishers, will present the award to Lauridsen at a ceremony at New York City's Jazz at Lincoln Center on December 14. Jazz composer Maria Schneider will also receive the award for her contributions to the jazz field.
Lauridsen recently served as composer-in-residence at King's College at the University of Aberdeen, Scotland. Later this month, he will lead a workshop at the INTERKULTUR Choral Festival in Monterey, California, in his role as Honorary Artistic President of the World Choir Games. In December, the New York Master Chorale will perform "Lux Aeterna," which is widely regarded as one of Lauridsen's masterworks.
Visit USC Thornton's Portrait of Morten Lauridsen web video series to learn more about the National Medal of Arts recipient's extraordinary life and work.