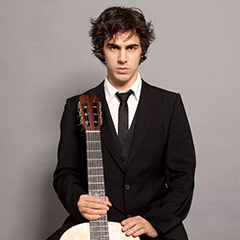 Daily Trojan explores Music@RushHour series with Mak Grgić
The Daily Trojan, USC's student-run newspaper, profiled USC Thornton's weekly Music@RushHour concert series in their February 25th issue. The regular Wednesday concerts, which are coordinated by Classical Guitar doctoral candidate Mak Grgić (pictured), aim to provide a relaxing and engaging respite to USC students, faculty, and staff, who might otherwise by struggling through rush hour traffic on a midweek afternoon.
While largely focused on Classical ensembles, last week's concert program showcased two vocal jazz student combos under the guidance of Jazz Studies faculty member Kathleen Grace. In an interview, Grgić explained that every Music@RushHour concert is uniquely themed. "Music@RushHour is geared mostly by its educational purpose. It is there to encourage our music students to think creatively about programming, choose themes for the events and present them as a showcase of both creativity and skill," he said. "Music@RushHour is here for the students. It is all about them."
The Music@RushHour series began in the 1980s as Music@Noon, and shifted to an afternoon format two years ago, under Grgić's direction. Brian Head, dean of Academic Programs and chair of the Classical Guitar program, also spoke about the series' success: "The program has been popular among Thornton students and faculty because it showcases students across a number of internal departments and gives them a place to collaborate in innovative ways."
Music@RushHour concerts are performed each Wednesday from 5:00PM at Simon Ramo Recital Hall, throughout the semester. The concerts are free and open to the public. For the full list of events, click here.