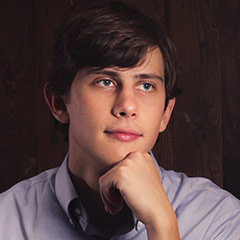 Daniel Linder earns Graduate Student Government research award
Daniel Linder, a DMA candidate in USC Thornton's Keyboard Studies program, was recently awarded 1st Prize in the Humanities division of the USC Graduate Student Government's 10th annual Research Symposium awards. Linder's research explored the musical language of 20th Century French composer Maurice Ohana, focusing on his Six Études d'Interprétation (1981-82). Under the guidance of Keyboard Studies faculty member Bernadene Blaha and Musicology chair Joanna Demers, this research became the basis for Linder's DMA lecture recital.
Click here to view an abstract of Linder's presentation, "Six Études d'Interprétation: Maurice Ohana's Postmodern Laboratory." In the video below, Linder performs the first of the Ohana études, Cadences Libres (Free Cadences).
Linder is also a recipient of the 2018 Fresno Musical Club Susan Torres Award and has earned top prizes in the 2017 James Ramos International Video Competition, the 2016 Seattle International Piano Competition, the 2014 Los Angeles International Liszt Competition, the 2014 Arizona State Music Teachers Association Competition, the 2014 Lois Trester Piano Competition at the University of Arizona, and the 2012 Thaviu-Isaak Endowed Piano Scholarship Competition at Northwestern University.