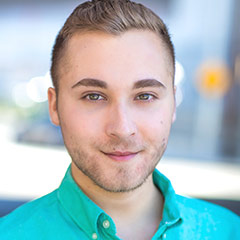 Drew Mikuška wins ASCAP Screen Scoring scholarship
Drew Mikuška (BM '14, composition), a graduate student in the USC Thornton Screen Scoring program, was recently honored by the American Society of Composers, Authors & Publishers (ASCAP) Foundation with the Betty Rose Scholarship. The scholarship is awarded annually to an exceptional Screen Scoring student who will receive intensive mentorship sessions with a prominent screen composer.
Last summer, Mikuška participated in the ASCAP Film Scoring Workshop at New York University, where he re-scored film scenes with musicians from the New York Philharmonic and Metropolitan Opera Orchestra.