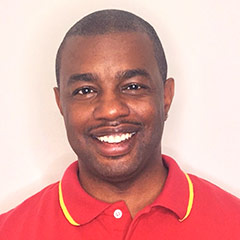 Jae Deal discusses power of sound in POW Audio interview
Music Technology faculty member Jae Deal was recently interviewed by POW Audio to discuss his perspective on sound and music production. Deal remarks on topics such as how he teaches sound as an educator and how he uses sound to "maximize the intention of the song" as a producer. "I believe the music of a song or album in recorded music is well produced if the intention comes through loud and clear and the artist is represented in the best possible fashion," he says.
Deal is a composer, producer and session musician who has worked with top artists such as Lady Gaga, Snoop Dogg and Diddy, and was a winner of the 2016 International John Lennon Songwriting Contest with co-composer Tia P.