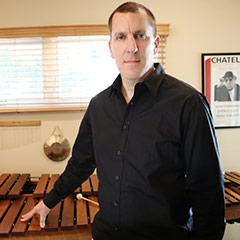 James Babor featured as a soloist with the LA Phil in London
Los Angeles Philharmonic (LA Phil) percussionist James Babor, also a member of the USC Thornton Winds & Percussion faculty, was recently featured as a soloist with the LA Phil during the orchestra's 2016 international tour. On March 23rd at the Barbican performance venue in London, conductor Gustavo Dudamel led the orchestra in Oliver Messaien's monumental, twelve-movement work, Des canyons aux étoiles, with accompanying video projections by artist and photographer Deborah O'Grady.
An infrequently-performed twentieth century meditation on the American West by the French Modernist composer, Canyons features an impressive percussion section, incorporating a wind machine, a thunder sheet, gongs, tubular bells, maracas, a whip, bass drum, triangle, wood block, wind chimes, crotales, reco reco, tumba, and Messaien's own invention, the geophone. Babor previously performed the work with the LA Phil under Esa Pekka Salonen.
A featured performer with many distinguished ensembles, Babor has performed with the Cleveland Orchestra, the Toronto Symphony, the Seattle Symphony, and the New World Symphony and is regularly featured as a soloist at the LA Phil's Green Umbrella new music concerts.