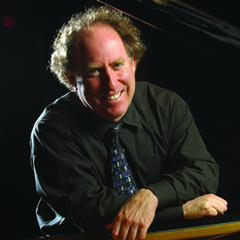 Jeffrey Kahane appointed music director of Sarasota Music Festival
Conductor and pianist Jeffrey Kahane, a member of the USC Thornton Keyboard Studies faculty, has been appointed music director of the Sarasota Music Festival, a program of the Sarasota Orchestra. The annual festival, founded in 1965, welcomes international faculty artists and college-aged musicians for three weeks of orchestral and chamber music concerts, recitals, masterclasses, and educational programs each June. Kahane, who will join the festival this August, has agreed to a three-year contract.
The coming year will also mark the conclusion of Kahane's celebrated tenure as music director of the Los Angeles Chamber Orchestra (LACO), as he retires from the role after 20 years. In his final season with LACO, Kahane will present a concert of Beethoven, Brahms, and Haydn with cellist Yo-Yo Ma and violinist Pamela Frank at USC's Bovard Auditorium on October 16. And in January of next year, USC's Visions & Voices welcomes Kahane, violinist Daniel Hope, and musicians of LACO for an exploration of the musical and political roots of Kurt Weill, Forging "The Knife"—Kurt Weill Before Broadway.
Kahane is currently artistic director for ChamberFest at the Green Music Center at Sonoma State University and previously served as music director of both the Colorado Symphony and the Santa Rosa Symphony. Reflecting on his appointment to the Sarasota Music Festival, Kahane said, "My first experience with the Sarasota Music Festival was as a piano faculty member in 2015. I was quite touched by the exceptional educational opportunities, the impressive faculty and the truly heartwarming reception by Sarasota audiences. There is no question that Sarasota is a special place with a vibrant arts community."