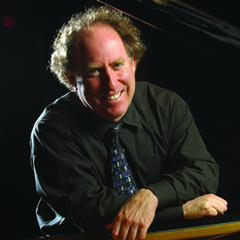 Jeffrey Kahane receives accolades for Beethoven's Ninth with LACO
USC Thornton Keyboard Studies faculty member Jeffrey Kahane received praise from both the Los Angeles Times and the Wall Street Journal for his work conducting Los Angeles Chamber Orchestra (LACO) in Beethoven's Ninth Symphony. Kahane has served as LACO's music director for 20 years, the longest of any in the ensemble's history. This summer, he will retire from LACO to teach full time at Thornton.
In the April 23 concert at UCLA's Royce Hall, Kahane led LACO—along with members of the Los Angeles Master Chorale—in a spectacular performance of two Beethoven works: the Fidelio Overture and the epic Ninth Symphony. Mark Swed of the Times lauded the "glow that Kahane brings to Beethoven."
As LACO's music director, Kahane has championed new orchestral music and expanded the ensemble's listenership by creating new and exciting programming. His final performance with LACO will take place May 20 and 21, during which Kahane will conduct Mozart, Schubert, and Cerrone from the keyboard.