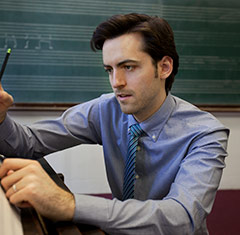 Juan Pablo Contreras receives the 2017 Presser Graduate Award
Juan Pablo Contreras, a doctoral candidate in the USC Thornton Composition program, has received the 2017 Presser Graduate Award, which honors exceptional graduate students who have the potential to make a distinguished contribution within the field of music.
Composition program chair Donald Crockett said that Contreras has been granted a "wonderful and rare opportunity," through the award. "Contreras is a gifted composer who is on his way to being a leading Mexican composer of orchestral and classical music."
Presented by the Presser Foundation, the award includes a stipend that will allow Contreras to complete his debut album of works with the Jalisco Philharmonic Orchestra of Mexico. In 2016, Contreras won the Jalisco Orchestral Composition Prize with his work, Mariachitlán, which was performed by the orchestra. The recording will be released in 2018 by Sony Music.
"I am thrilled to have been chosen as the recipient of the 2017 Presser Graduate Award," said Contreras. "I have always dreamed of recording an orchestral album of my music, with a professional orchestra, and this award will allow me to do so. This achievement will have a profound impact in my career as a composer, and it will be an honor for me to proudly represent the USC Thornton School of Music in this international recording endeavor."