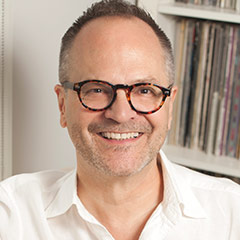 Ken Cazan praised for production of Britten's "The Burning Fiery Furnace"
USC Thornton Vocal Arts & Opera chair Ken Cazan's recent production of Benjamin Britten's The Burning Fiery Furnace at the Central City Opera in Boulder, Colorado, received high praise. "Cazan's imaginative staging combined with Britten's music makes the message universal," the review stated.
Cazan's stage direction delivered a modern take on Britten's opera "where the Babylonians carry cell phones and iPads and wear modern suits." The performers, from the company's highly-regarded Artists Training Program, included alumna Quinn Middleman (BM, '14) who provided comedic relief as one of a pair of gender-ambiguous entertainers.