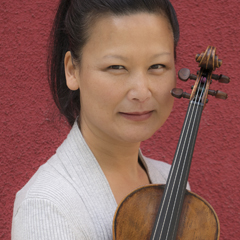 Lina Bahn offers auditioning advice on The Violin Channel
The Violin Channel recently turned to USC Thornton Strings faculty member Lina Bahn for its "Ask the Pros" series on the topic of auditioning for music schools. In addition to offering advice about preparation, Bahn pointed to the shortcomings of the audition process as opportunities to grow and develop as a musician.
Her tips for auditions include:
Try to have a lesson with the teacher of your preference.
Try to attend rehearsals, lectures, classes, studio-class during your audition trips.
Look for students who go to the school you are visiting and ask questions.
Ultimately, Bahn recommends looking at the audition experience as more than merely a pass/fail scenario. "Why not make your audition circuit experience more meaningful," she said.
"Use the opportunity to learn more about yourself and to communicate who you are to the committee through your music. Realize that you are still the same musician before and after your audition circuit; the 'verdict' from any school cannot serve as your identifier. It does not nor cannot sum up who you are as a musical citizen."