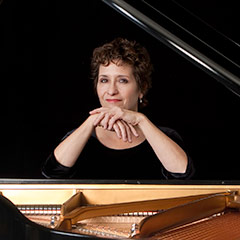 Lucinda Carver receives USC Mentoring Award
Lucinda Carver, vice dean of USC Thornton's Division of Classical Performance and Composition, was selected for a 2016 USC Mentoring Award from the Office of the Vice Provost for Academic and Faculty Affairs. Carver was nominated by a student or peer for her work over the last year and throughout her time at USC and will be honored at an awards ceremony and reception in April. The University has distinguished extraordinary faculty members with mentoring awards since 2005.
Carver is a highly acclaimed musician who is known for her work as a conductor as well as a pianist and harpsichordist. Before coming to USC, she served as the music director and conductor of the Los Angeles Mozart Orchestra for 11 years and she has been recognized as a "first-rate conductor" by the New York Times and "an important emerging conductor" by the Los Angeles Times. She joined the USC Thornton faculty in 1998 and now teaches in Keyboard Studies, Early Music, and Conducting.