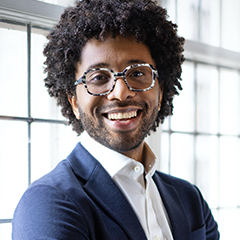 Meet the new faculty: Seth Parker Woods
As part of a new series this spring, USC Thornton is introducing a number of exceptional new faculty members at the school. Acclaimed cellist Dr. Seth Parker Woods joins the faculty as an assistant professor of practice, string chamber music and cello. A recipient of the 2022 Chamber Music America Michael Jaffee Visionary Award and hailed by The Guardian as "a cellist of power and grace" who possesses "mature artistry and willingness to go to the brink," Woods will direct the Thornton Strings Department's chamber music program while teaching cello.
"I'm thrilled and beyond excited to join this illustrious faculty and school, which has been an international beacon of creative excellence for more than 50 years," Woods said. "I'm looking forward to connecting and learning from my fellow colleagues and students and forging new paths in the coming years."
Join us in welcoming such an esteemed artist to the Thornton faculty.