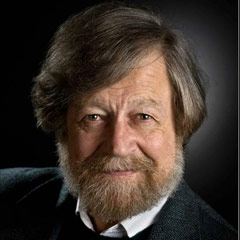 Music & Beyond Festival pays tribute to Morten Lauridsen
On July 12, the Music & Beyond Festival of Ottawa, Canada, held a concert celebrating the choral works of USC Thornton Distinguished Professor of Composition, Morten Lauridsen. Lauridsen accompanied singers from 10 regional choirs in performances of his O Magnum Mysterium, Sure on this Shining Night, Lux Aeterna and Dirait-on, under the batons of conductors Jamie Loback and Laura Hawley. Music & Beyond is one of Canada's largest classical music and arts festivals, with an annual attendance of over 36,000 people.
In anticipation of the concert, the Ottawa Citizen published an overview of Lauridsen's extraordinary musical trajectory, beginning from his early days as a student in the USC composition program. "I transferred to the University of Southern California simply because I thought if I was going to get into music, I had better go to where it was happening," Lauridsen recalled in the article.