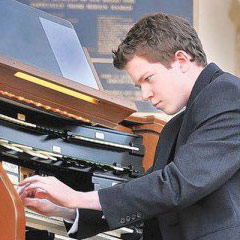 Organist Thomas Mellan takes first place at San Diego competition
Thomas Mellan, a USC Thornton junior double-majoring in Organ Studies and Composition, recently took first place in the keyboard division of the Musical Merit Foundation's competition for instrumentalists and vocalists, earning the distinction of Fenstermaker Scholar. Mellan, who also took the top prize in the 2015 competition, performed at the foundation's 70th Annual Awards Concert in June.
Mellan received the Thornton Faculty Award in 2013 and currently studies under Cherry Rhodes and Frank Ticheli.