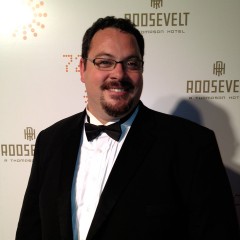 Paul Young visits University of the Pacific for lectures and masterclasses
Paul Young, trombonist and director of the USC Thornton Music Industry Minors program, visited his alma mater, the University of the Pacific Conservatory of Music in Stockton, California, for a series of lectures and masterclasses this week. In addition to working with UOP students on brass technique, Young also contributed to an Artist Management class, a Music Industry Forum, a Music Industry Analysis class, and a student-led Music Management club, before joining students for a Pac Ave Records student record label release event. At the end of his visit, Young performed in concert with the UOP Pacific Jazz Ensemble big band.
Before joining the USC Thornton faculty, Young worked as the Director of Licensing and Contract Administration at the Universal Music Group. He is also an active studio musician, working with artists such as Dave Brubeck, Stevie Wonder, Jason Mraz, Bobby McFerrin, and Natalie Cole, and regularly performs with big bands throughout Southern California.