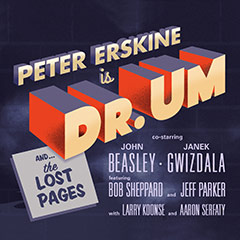 Peter Erskine emerges as "Dr. Um" in new album release
Peter Erskine, director of Drumset Studies at USC Thornton, will release a new jazz fusion album, under the moniker of "Dr. Um," this week. The album, which embraces the sound worlds that Erskine first created with the Weather Report and Steps Ahead, also features performances by Jazz Studies faculty members Bob Sheppard (saxophone), Aaron Serfaty (percussion), and Vince Mendoza (composer). Erskine credits Joe Zawinul, John Beasley, Gary McFarland, and Gustav Mahler as additional compositional influences for the album.
Reflecting on his return to a more youthful style of drumming, Erkine recalled, "I'd traveled my 'anti-drumming' path of recent years about as far as I could take it—exquisite music where 'less' was so much 'more' … So the chance to play this way again feels very fresh and new to me. It's being able to live the 'if I knew then what I know now' dream and make some really cool music at the same time."
"Dr. Um," featuring the ensemble Dr. Um and the Lost Pages, will be released on January 15.