Piatigorsky documentary, "The Cellist," to be screened at USC Thornton following DVD release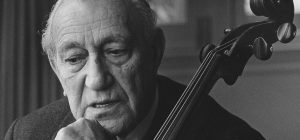 "The Cellist," a documentary detailing the life of famed cellist Gregor Piatigorsky will be released on DVD Jan. 28. Often heralded as one of the greatest classical musicians of the 20th century, Piatigorsky was a musical prodigy at an early age, and fled the Soviet Union to the United States in the 1920s. He ultimately made his home in Los Angeles, where he taught at USC Thornton and made a remarkable impact on classical music in the city.
The film will be screened on Saturday, March 14 at the upcoming 2020 Piatigorsky International Cello Festival (PICF '20), hosted by USC Thornton in partnership with the LA Phil. Accompanying the film's screening will be a panel discussing Piatigorsky's teaching and influence, composed of Piatigorsky's grandson, Evan Drachman, and a number of the composer's former students, including Terry King, Laurence Lesser, Mischa Maisky, Jeffrey Solow and Raphael Wallfisch.
PICF '20 is the third iteration of the unprecedented 10-day, 42-event festival and will feature performances from master cellists and young cellists from around the world, including Thornton students, faculty and alumni.