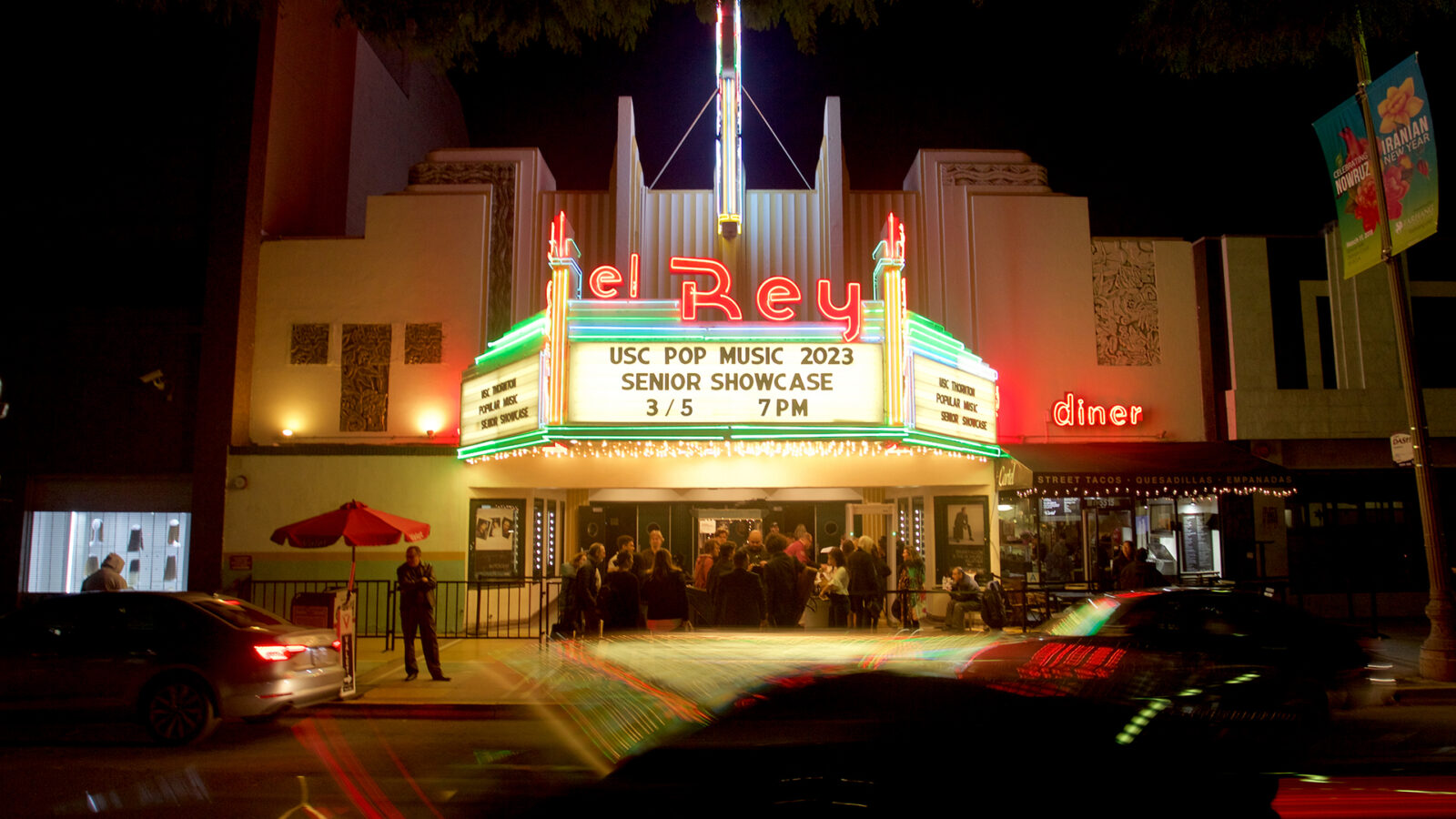 A Grand Scale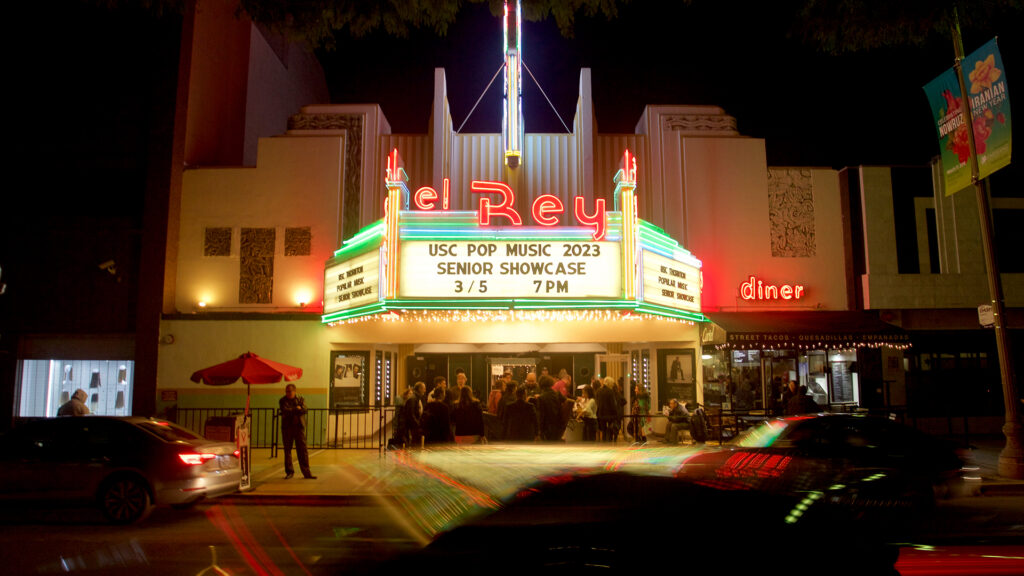 The Senior Showcase highlights the collaborative and rigorous nature of Thornton's cutting-edge Popular Music program.
An update as of March 1: Advance tickets for the Popular Music program's annual Senior Showcase are now sold out. Standby tickets will be available on the night of the event for unclaimed tickets. A standby line will form on the left side of the El Rey Theatre's entrance beginning at 6:30 p.m.
Learn more about the event here.
---
If this year is like previous years, emotions will be running high on Sunday, March 5, when the USC Thornton Popular Music program presents its Senior Showcase. Held for 11 years at the Troubadour, the showcase simply outgrew that venue, and this marks the fourth year students will take over the famed El Rey Theatre that has hosted stars from Bob Dylan and Ringo Starr to Billie Eilish and Kendrick Lamar.
Associate Professor of Practice Chris Sampson, the founder of the pioneering program who oversees the showcase each year, is prepared for the waterworks.
"At the conclusion of the show, there are tears. It's a long journey; this is a rigorous program. And this class had unique challenges when their experience was interrupted by COVID. They are the definition of perseverance," Sampson said. "I'll completely expect an emotional outpour, I'll understand it. Every year I shed my own tears. I know the journey they went through."
The Popular Music program, chaired by Associate Professor of Practice Patrice Rushen, caters to young musicians outside jazz and classical, offering small group collaboration and private lessons for rock, pop, R&B, folk, Latin and country artists. To develop the skills necessary for professional success, students explore performance, songwriting and arranging, studio recording, music production and entrepreneurship. The highly acclaimed program boasts alumni with No. 1 hits, Grammy Awards and other prestigious honors, major recording and publishing contracts, international tours and song placements in TV and film; it has launched the careers of such artists/groups as MUNA, Remi Wolf, Jensen McRae and King Princess.
"Every cohort in our program has special qualities," Rushen said. "This senior class has dealt with the rigors of our program alongside becoming adults, facing the challenges of college during COVID as well as the ups and downs of coming to terms with their unique individual artistic expressions. This Showcase will be a celebration of tenacity, courage, talent, skill, and truth."
The culmination of four years of intense study, the Senior Showcase reflects what's unique about the Popular Music program. "One of the special qualities of the program is this cohort nature, this group of students that come together in a peer learning environment, and what the showcase symbolizes on such a grand scale is everybody coming together," Sampson said.
Students will not only perform their own music, they will also join other bands or provide backup vocals for other students. David McInnes (BM '23) will play drums for four cohort members in sets varying from pop to Latin to R&B. That kind of flexibility is exactly what McInnes will need in the work he plans to pursue after graduation as a session drummer. But right now, he is most excited to use this final performance to showcase the progress of his drumming over four years.
"The first two years of the program highlighted performing, and the last two years we've focused on writing original music," said McInnes, who learned about the program in junior high from his grandfather, Donald McInnes, renowned violist and professor emeritus of strings. "USC Thornton's popular music program has given me the opportunity to study with world-class mentors who have helped develop my playing into what it is today, and I am excited to showcase that."
Jamilla Johnson (BM '23) will not only sing two new songs she is preparing for release, but also perform behind her friend, Austin Brown, on his grunge set and another friend, James Sinigalliano, on his alternative songs.
Pop students do not see this kind of collaboration merely as a course requirement. It happens outside of class all the time.
"We collaborate a lot with our peers," Johnson said. "The songs that I'm releasing, Austin either helped co-write or he is the producer for, and James plays keys on my record as well."
Student-Centered Education
Another innovative aspect of the Senior Showcase is the fact that the show is completely owned by the students.
"They write the music, they are responsible for rehearsals, and they put the entire show together," Sampson said. "There really isn't any faculty direction — we give them the room, we give them the date. It couldn't be more student-centered."
Students put into practice various skills they have honed over four years and develop some new ones along the way. McInnes said the skills he learned, especially in the second-year performance class — one of the highlights of the popular music program for him — have helped tremendously with his senior project.
"The second-year performance class brings a range of genres in different timelines, and it really changes all aspects of the craft," McInnes said. "Cohort members have to work professionally and quickly, which poses real-world challenges that we will most certainly deal with in the industry as players. After completing the class, students are armed with the ability to learn quickly and effectively. This level of professionalism has allowed our senior projects to be so precise, yet easy in a way."
Johnson ran through a highlight from every year in the program, starting with learning a vocabulary by studying classics from Motown, and followed by numerous experiences that took her out of her comfort zone and expanded her artistic abilities. For her senior project, she looks forward to showing that off at the Senior Showcase.
"With this new attitude about myself, I'm really ready to kill it," Johnson says with a laugh, "you know, to be the show stopper I always knew I can be."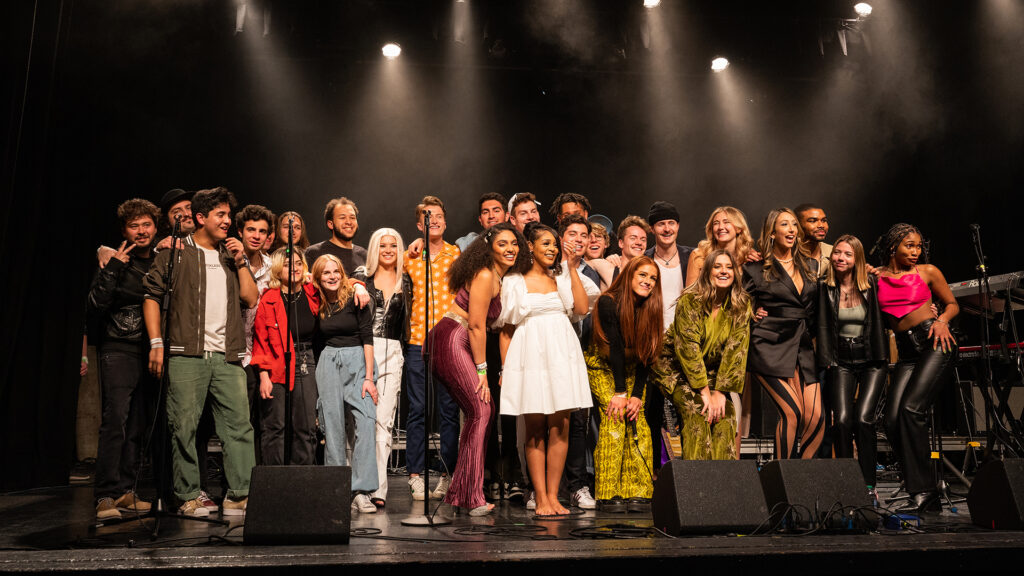 Even though the show attracts music industry executives and decision makers, Sampson emphasizes that the event is a celebration of the students' accomplishments, and not an audition. He views the opportunity to perform at the El Rey, a 1936 art deco theater on the Miracle Mile that was converted to a live music venue in 1994, as a kind of gift to the seniors.
"We're giving them an experience that they wouldn't be able to book immediately on their own," he said. "That sort of heightens the specialness of the occasion."
"This is a historic venue that I am very excited to get the chance to play at," McInnes said. "I've seen many shows at the El Rey, so the opportunity to get to play on the stage is an honor. Our cohort has had a wild four years. On the tail end of our freshman year, the pandemic hit, which really challenged all of us. So, after all the hurdles, our cohort is beyond excited and prepared to play one final show."
Never miss a story
Subscribe to USC Thornton's e-newsletter
Subscribe