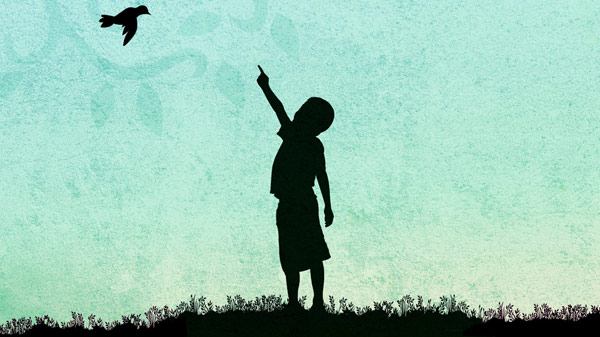 A Delightful Double-Bill
By Emily Thebaut & Daniel Anderson
This Wednesday, the USC Thornton Opera program will open a double bill of delightful, but rarely-performed one-act French operas — Le Rossignol ("The Nightingale") by Igor Stravinsky and L'enfant et les Sortilèges ("The Child and the Spells") by Maurice Ravel.
But what does an opera about a songbird have to do with the story of a spoiled young boy? The answer, according to both stage director Ken Cazan and music director Brent McMunn, is quite a bit.
Le Rossignol, set in Imperial China and based on a tale by Hans Christian Andersen, tells the story of the Nightingale's beautiful song and its inspiring effects over those who hear it, from a lowly fisherman, to an overbearing emperor. And Ravel's L'enfant et les Sortilèges, with a libretto by the incomparable novelist, Colette, follows young child who finds compassion through his unexpected encounters with surreal and otherworldly creatures.
"It's all about our relationship to nature, no matter what your status in life is," explained Cazan. "If you dare to abuse nature, you're going to lose something valuable."
Puppetry & Dance
To bring these fantastical stories to life on stage, Cazan has teamed with two collaborators — scenic designer and puppet creator, Sean Cawelti, and choreographer Lenai Wilkerson, a senior at the USC Kaufman School of Dance.
The singers will use custom-made hand puppets to evoke the animals in the dreamlike world of Ravel's L'enfant et les Sortilèges, which takes place in a child's nursery room, where the playful surroundings spring to life. "Objects, like the tea pots, will be portrayed by people," said Cazan, "but the tangible elements of the opera, like the animals, are portrayed by the puppets."
Ravel and Stravinsky were each highly regarded for their ballet orchestrations and Le Rossignol was originally written and performed as a ballet. It wasn't until many years later that Stravinsky reworked it as an opera, to brilliant effect.
Dance will draw a colorful thread through both of the operas. "Everything Stravinsky wrote was dances," said Cazan. "So for this reason, we're doing a lot of exaggerated movements and silly walks."
The Ravel, on the other hand, will echo the cabaret spirit of 1920's Paris. "You have the sexy tango of the one-legged shepherdess, and she also does a dance with the character of the chair," said Cazan. "The tea pot and the china cup are also outrageous, and actually do a little vaudeville routine."
A Musical Delight
Composed in Paris in the 1910's and 20's, both Le Rossignol and L'enfant et les Sortilèges were written by "master orchestrators," according to McMunn, and "have so many musical parallels, because of the instrumentation in both operas, that they are almost identical in style."
While their stories may be charmingly fanciful, the operas feature intricate and sophisticated musical scores that are often evocative of their early modernist roots. In fact, Le Rossignol, which was written over a span of 6 years, charts Stravinsky's transition from his early Russian style to a more ornate and delicate sound.
The productions bring plenty of musical challenges for the cast of Vocal Arts students. Nevertheless, McMunn is enthusiastic. "Work of this complexity demands professionalism from all people," he said. "But the skill level of our musicians seems to go up every year — and I'm thrilled to help put all the pieces together."
---
The USC Thornton Opera's production of Le Rossignol & L'enfant et les Sortilèges runs Wednesday, November 14th at 8PM, Friday the 16th at 8PM, and Sunday the 18th at 2PM, at USC's Bing Theatre. Free for USC students, faculty, and staff with valid ID. General public, $18. Seniors, alumni, and non-USC students, $12.
Never miss a story
Subscribe to USC Thornton's e-newsletter
Subscribe