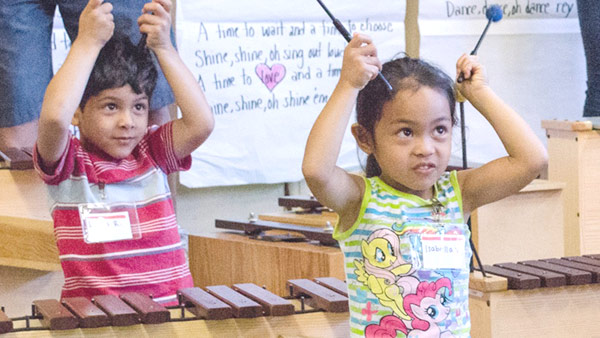 A Growing Need for Community Music
When you trace the career path of a professional musician, you can usually see how their passion led them to where they are.
Catherine Cooper (MA '02, MAT '14), a USC alum with master's degrees from both the Thornton School of Music and Rossier School of Education, keeps busy raising two children, teaching K-8 music full time, and running KIDmunity Music, a music education program for elementary-aged children in Fresno, CA.
She studied and worked in different facets of music throughout her career, but her passion for community music remained steadfast throughout her journey.
"It's the most fulfilling work I do," said Cooper, "I love teaching in a school, but there's something special and unique about being able to give children and families the gift of music."
Cooper's experience with community music engagement started when she was an undergraduate pursuing a degree in vocal performance. She worked with organizations in New Jersey to develop a music program for homeless children and lead musical theater and choir. When she finished her undergraduate degree, she decided to pursue a master's degree in music history and literature from Thornton.
"When I moved to Los Angeles for grad school, I was really missing that involvement in some type of community service related to the arts," she said.
Cooper found what she was looking for through USC Thornton's Community Engagement Program, a service-learning program created to provide local, underprivileged children with music learning opportunities led by director Susan Helfter, chair of the department of Music Teaching & Learning.
"We worked in about a dozen schools in the South-Central Los Angeles area. My role was as a student-teacher supervisor, so if I had a clarinetist who was having trouble with classroom management or couldn't connect with the kids, I would go in and mentor that teacher," said Cooper, "I loved it, and I really loved working with Susan."
Building a Community Music Program
After her husband, Thornton alum Kevin Cooper (MM '01, DMA '06) was offered a professorship in guitar at Fresno City College, the family left Los Angeles. "I found some teaching opportunities [in Fresno], and I really wanted to get involved with an organization like USC Thornton Outreach," Cooper said.
In Fresno, Cooper found that, while there were local community music programs, none addressed the problems she saw.
"I came to Fresno at a time when, due to economic pressures, music had been all but eliminated from the entire elementary education structure for almost a decade," she explained, "There are wonderful community music programs here, but there wasn't anything for the young kids in my neighborhood, let alone anything they could afford. These institutions charge a reasonable rate, but when you have a Latino family that has five children and one working parent, $40 per-month, per-child is too much. Most of these programs charge much more than that, too."
Cooper saw the tremendous desire and need for an affordable community music program, so she founded KIDmunity Music in 2010 with the intention of reaching underserved communities in central Fresno.
"We have a very large Latino population here, so I decided to make guitar a part of the program right from the beginning," said Cooper, "I planned everything out from recorder and guitar lessons to Orff percussion and art instruction."
She quickly got to work, developing the program, recruiting partner institutions to donate space and support, and finding staff to volunteer their time.
"When I first started out, I had to beg, borrow, and steal," she joked. "The practical issues were the main roadblocks initially. Then, it was a question of how to sustain funding and publicize the program."
Cooper slowly found grant support for the program. She used the money to acquire instruments and pay small stipends to college students who were working with KIDmunity Music. She credits her experience with Helfter in the USC Thornton Outreach program as an incredible learning experience that prepared her for the stresses of running a grant-funded community music organization.
"I had an under-the-hood look at applying for and maintaining grants," said Cooper, "It eliminated much of the starting friction in regards to grant soliciting and community funding because I saw Susan do it so effectively."
As for publicizing the program, Cooper was diligent in finding the best way to spread the word. She advertised in newspapers and local magazines, put up bilingual flyers at libraries, and postered every elementary school in a five mile radius of the program. She even set up tables at supermarkets with instruments for passing families to try. Ultimately, she found that word-of-mouth was her strongest recruiter.
"I learned that people make decisions based off of what family members and other parents tell them," she explained, "Essentially, what I had to do was build a community of families who refer other families to the program."
Community Music Teacher Education
Two years after founding KIDmunity Music, Cooper returned to USC, this time, to pursue a Master of Arts in Teaching from the Rossier School of Education.
"I realized that if I was going support myself financially, I needed a teaching credential," said Cooper, "I started looking at distance learning programs, and Rossier's was just fantastic. I really feel like it was worth every penny."
Rossier's program focuses on education gaps and how to be an effective teacher in socioeconomically disadvantaged communities, so it was a natural fit that Cooper could put to use in her work with KIDmunity Music.
However, Cooper added that, "If there had been a degree program in community music making, I would have done that. It just wasn't an option at the time."
USC Thornton now offers the program Cooper wanted. The new Master of Music in Community Music (M.M.) program is tailored to musicians who are passionate about making music more accessible to their local community. With a focus on bringing music instruction to disadvantaged people in nontraditional settings, it combines music education, community engagement, entrepreneurship, and educational theory with practical experience in the growing field of community music.
The Master of Music in Community Music is one of five new professional master's degrees unveiled by USC Thornton in the summer of 2017. The four-semester, 30-32 credit degree program will begin in the Fall 2018, with some courses available during summer sessions. A bachelor's degree in music performance or music education is required, but candidates do not need to take the GRE.
KIDmunity Music
Seven years later, KIDmunity Music is still going strong. They offer a fall and summer program that attracts around 100 children each year. The program never turns away children interested in music; any family who can't afford the program is given a scholarship.
"We seek additional funding to offset families who can't pay," she said, "sometimes it's past parents or families who received a scholarship at one point. Last summer I had a parent who was unemployed and received a scholarship for the program, and this summer he came back and funded a scholarship for someone else."
Cooper views the program as an opportunity to enrich the lives of college-age musicians who may have not been exposed to community music. To her, music education is an integral part of any musician's career.
"As a direct consequence of my experience with Susan, I really saw the benefit of giving musicians who are not education-minded a potentially eye-opening experience," she explained, "If anyone aspires to be an actual working musician, they need to know how to run a business and do all of those things. If you look at any great works or producers of art, you'll see a relationship between a vibrant educational world infused with artists and art makers."
While Cooper continues weaving a musical community in Fresno, she encourages all musicians to get involved in community music organizations, to find a need that they're passionate about, and to connect it to the world around them.
"Your musical life will be enriched by doing it," she says, "You're advocating for the making of music in a way that nurtures your own career and the community that you're planted in."
---

Never miss a story
Subscribe to USC Thornton's e-newsletter
Subscribe