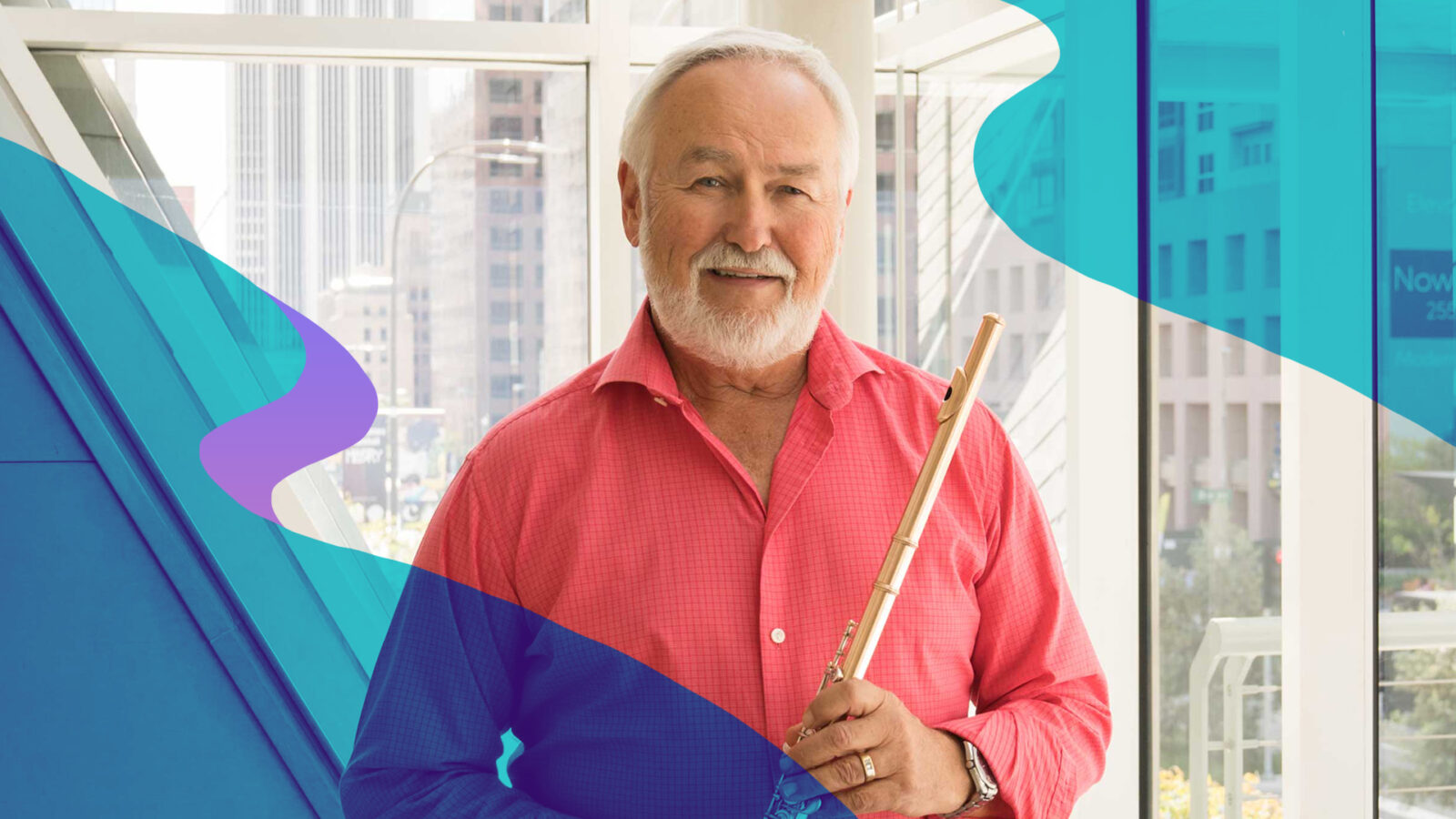 A Multifaceted Career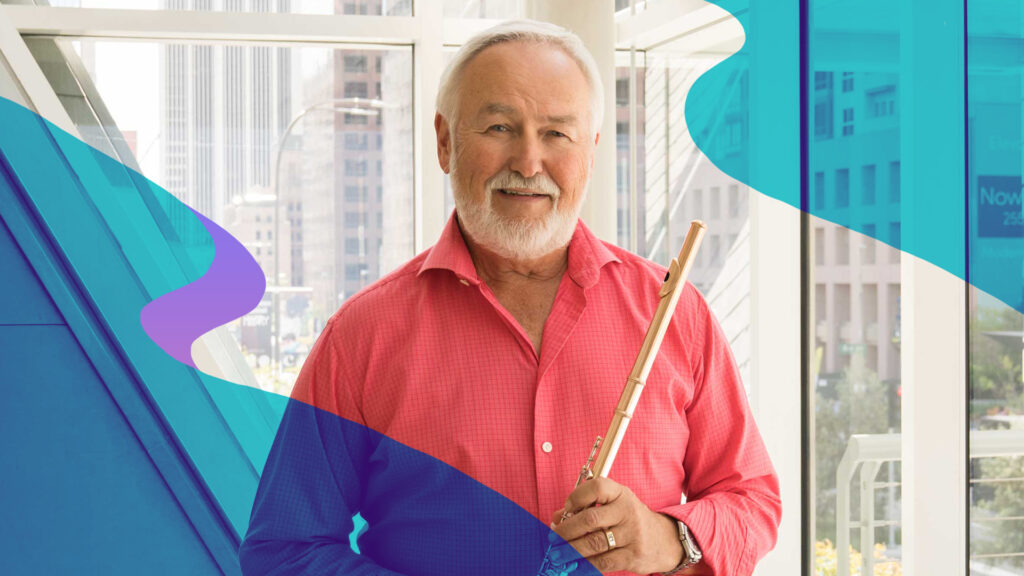 Flutist Jim Walker will retire after three decades spent helping Thornton students achieve their dreams.
---
Jim Walker, professor of practice in USC Thornton's Winds and Percussion department, has enjoyed celebrity status within professional circles for decades. Yamaha Entertainment Group of America calls him "one of the world's most respected flutists" with "gorgeous tone and impeccable technique." Two years in a row, he received the Most Valuable Player Award from the National Academy of Recording Arts and Sciences, the Academy itself famous for its GRAMMY Awards. The National Flute Association, which awarded Walker the 2008 Lifetime Achievement Award, calls him "a living legend."
Apart from professional musicians and students, most people may not recognize his name, but they have undoubtedly heard him play if they've watched any movies or TV shows over the past three-plus decades. Walker has performed on more than 700 soundtracks for major composers and conductors like John Williams, James Newton Howard and Alan Silvestri. You can hear his symphonic work on Star Wars (L.A. Phil version), Indiana Jones and the Temple of Doom, Forrest Gump and Jurassic Park, and his flute solos appear on Titanic, Monsters, Inc. and Memoirs of a Geisha, to name a few.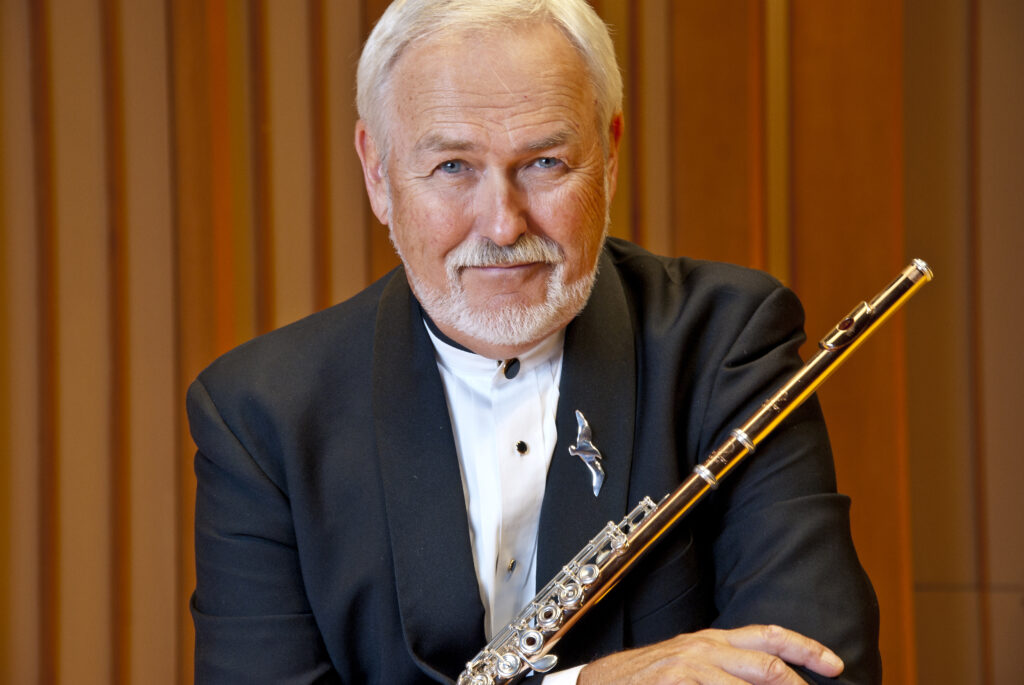 Walker's career was truly multifaceted and distinguished by his dexterous slides among the concert hall, jazz club, recording studio and classroom. By 1985, he had been an assistant and associate principal with the Louisville Orchestra and Pittsburgh Symphony and principal flutist with the Los Angeles Philharmonic. After seven seasons with the L.A. Phil, Walker decided to focus on studio recording, jazz and teaching. He toured and recorded with his own jazz/classical quartet, Free Flight, which performed four times on The Tonight Show. He established himself as a first-call session musician for L.A.'s motion picture and TV studios and won those Recording Academy accolades. All of this was accomplished before joining the USC Thornton faculty in 1989.
Of course, there were many more accomplishments to follow. Now, with plans to retire in December and his designation as a Professor Emeritus of Flute, Walker reflects on his teaching gig and storied career.
"I hope that my legacy is that my belief in my students propelled them to heights they had dreamed of," Walker says of his 32 years with Thornton. "I did my best to recruit the best possible class of flutists, and I love their universal hunger to become professional flutists and teachers. The central goal for me was to lead the students to the highest possible standard in making a special, personal sound and to be expressive and communicative in a high-pressure, performing situation."

Of his approach to teaching, Walker says, "I always tried to encompass a mixture of fundamental elements, solo repertoire and orchestra music. I always tried to be 100% supportive of every student and 100% honest about their strengths and weaknesses."
USC Thornton School of Music Dean Robert Cutietta says Walker's commitment to educating the next generation of professional flutists is a testament to the skill and passion that propelled his own storied recording and performance career.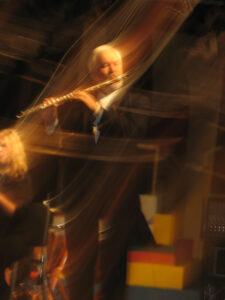 "Jim Walker is among that class of musician-educators who have the ability to not only push the envelope of their own playing but translate those skills to the classroom so that musicians who come after him benefit from his expertise and experience," says Cutietta. "He leaves a wonderful legacy at Thornton in the remarkable alumni he has helped train over the years."
Walker takes pride in the fact that his students have built successful careers in a multitude of ways, from playing in orchestras around the world to leading as arts administrators. Without a doubt, his distinguished career set an example.
"The fact that I was so fortunate to have this career sends a signal to my students that a fairly normal guy can have unexpected successes with a lot of hard work, some well-placed talent and a lot of good breaks," he says.
After five decades of teaching, Walker says he never wants to give it up entirely and plans to continue teaching in some capacity.
When he retires, USC Thornton students will remain in good hands. Catherine Karoly joined the Thornton faculty last year. She has been with the Los Angeles Philharmonic for 25 years, serving nearly half that time as associate principal flute. And, of course, she has known Walker for years.
"It is truly an honor to continue the legacy that Jim Walker has established at USC," Karoly says. "Through his high standards, integrity and genuine nature, he has molded hundreds of students and grand-students who have made a huge impact in the flute world. I couldn't be more thrilled to follow in his path."
Stellar Career
When Walker graduated from the University of Louisville School of Music in 1966, Hollywood soundtracks were the furthest from his mind. He wasn't even a big movie fan. But, in his first job in the Pittsburgh Symphony Orchestra, there were several pops concerts that featured the music of Henry Mancini and others.
"I loved that and mused that it would be very cool to end up in L.A. and work on some projects like soundtracks," Walker says, "but I didn't have any expectation that that would happen. Fast forward to 1977 when I won the L.A. Phil principal flute job, and all of a sudden, the possibility of playing sessions became a reality."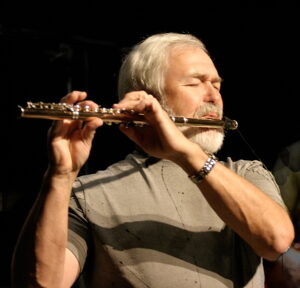 Now, he says, there are too many memorable moments to mention. Walker fondly recalls sessions with John Williams "for the amazing music, his professionalism and respect for the musicians, plus the enormous challenges that some of his music presented."
"Playing with Paul McCartney at the 2002 Oscars was truly a career high," Walker added. "He is such an amazing icon in the history of music, and he was the nicest guy to work with."
Another of Walker's favorite memories was working on the sessions for The Joy Luck Club. For years, Walker had been collecting various instruments from around the world that were often called for in soundtracks.
"Halfway through the first session, the contractor, Sandy DeCrescent, asked me if I had my arsenal of flutes in my car that day. They had a bit of an urgent need for a new player," he says. "On the first break, I ran to my car and grabbed three suitcases full of instruments. I ended up doing all of the flute parts in the movie and consider it one of the more enjoyable soundtracks I ever played on."
Sixteen recordings later, Walker is still performing with Free Flight.
"The blend of virtuoso players doing both jazz and classical repertoire was very unique for the '80s," he says. "In many ways, Mike Garson — a pianist, composer and collaborator — and I always felt that the group was a bit ahead of its time."
Walker has also been known to collaborate with Thornton Jazz Studies faculty, performing with the GRAMMY-nominated Yellowjackets as well as Weather Report.
When asked his greatest career accomplishment, Walker says, "Simply, making enough money to support my family and enjoy my life. The highlights along the path were many, but overall, I was blessed to have risen to a level of professional excellence to be hired by the symphony orchestras, the motion picture studio orchestras and the concert jazz world."
Never miss a story
Subscribe to USC Thornton's e-newsletter
Subscribe