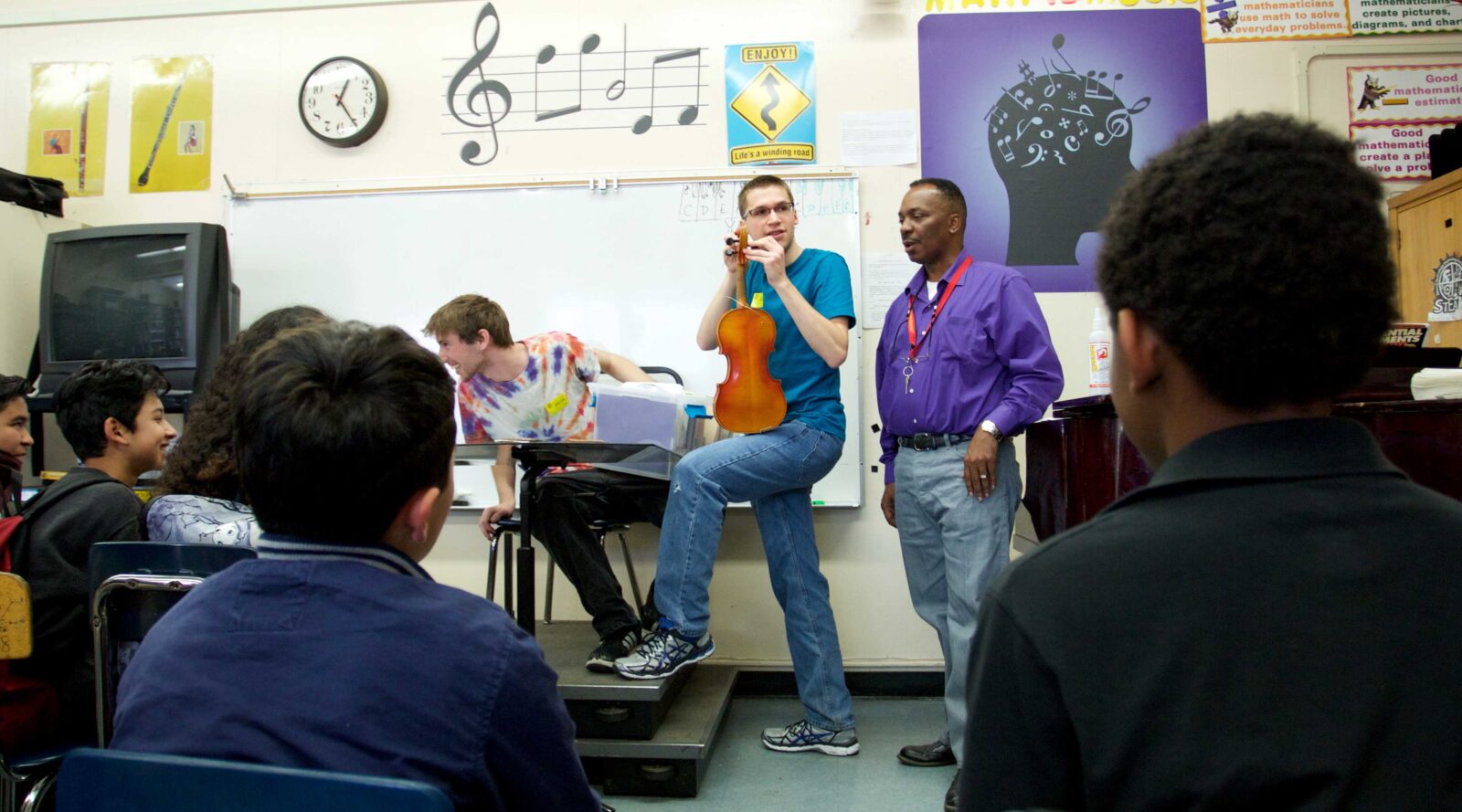 A Quartet of Standout Students: Part 1
In the first of a two-part series, we highlight USC Thornton's Outstanding Graduates for 2019.
In the first of a two-part series, we highlight USC Thornton's Outstanding Graduates for 2019. Read part two here. 
A flutist who also wants to be a surgeon and cancer researcher. An organist who was invited by one of the world's most famous musicians in his field to play one of his compositions at Walt Disney Concert Hall. A pianist who learned to express himself more fully with his instrument and in his adopted country. A collaborative keyboardist who thrived in four years of intense doctoral studies and finds himself hungry to learn more.
These are the 2019 Outstanding Graduates of the USC Thornton School of Music. Jonathan Sussman, Thomas Mellan, Zuhao Liu and Jasper Jimenez will be honored at the 64th annual Honors Convocation on Thurs., May 9.
Their talent and passion, their drive and promise, and their desire to make an impact are exemplary and, at the same time, typical of a Thornton student.

Jonathan Sussman, BM '19 Flute / BS '19 Biomedical Engineering
Jonathan Sussman's career ambitions sound like the stuff of superhero stories. He plans to be a professional musician and a surgical oncologist who researches cancer.
Sussman didn't have that exact plan when he entered USC, but the soon-to-be graduate did know he wanted two careers when he chose a double major in flute performance and biomedical engineering.
He thought he might be an engineer. His dad was an inspiration there: he's an aerospace engineer who also taught his son how to play piano. Now, Sussman is looking into MD/Ph.D. programs. "I realized I was more interested in helping people and doing something more novel and complex and unknown," he said.
Music and science may sound worlds apart, but Sussman finds that they complement each other beautifully.
"My experience in Thornton and Viterbi influenced each other in ways far beyond the sum of what I learned in the two schools," said Sussman, who graduates as a Renaissance Scholar with a 3.99 GPA. "I learned that science is very much an art; just as art is very much a science."
At Viterbi, Sussman earned a Provost Fellowship for research and looked at vulnerabilities in cancer cells to try to find targeted therapies. "In science, you can look at things creatively," he said. "Having a creative mindset, having an eye for aesthetics and thinking of things subjectively and emotionally is the opposite of what you might think of science, but it makes a better researcher."
He feels that science also makes him a better musician: "Science gives you an analytical perspective that helps you when you play and analyze music and look at its history and its derivatives from other music."
Sussman, a 2015 Thornton Faculty Award (four-year merit scholarship) recipient, said the best part of his Thornton experience was getting to perform. "That's what I'm here for, and that's what Thornton is about: performing with other people, getting the opportunity to be inspired by musicians from all over the world with different backgrounds and traditions in music, different aesthetics and ideas about what music is."
He played principal flute for the USC Thornton Symphony, with whom he performed in Walt Disney Concert Hall in April, and he is proud that his performance with the USC Thornton Symphony in Ravel's "Bolero," which features a flute solo, was broadcast on KUSC classical radio.
Sussman's skills on piano are pretty remarkable too. "Before you knew it, I was playing recitals with people here on the piano," he said. "I jumped at that opportunity because that's a great way to play with really talented musicians on something they are really prepared and focused for, and I found that very enjoyable."
Every few weeks Sussman had a performance with someone at Thornton — on flute, piano, violin or viola. He also played in a wind quintet. "There are a lot of opportunities for chamber music here," he said. "There are performances all the time, and I'm asked to play a lot. I've found the hardest thing is learning to say no."
Sussman said it has also been fun to do studio work for composition students and record soundtracks for film students. "My greatest strength in music is sight reading. So I can be handed the music and play, and that's a valuable skill in a lot of different settings in music — studio recording, freelance work. This is what a lot of music careers consist of today. My teacher, Jim Walker, became famous not from playing principal flute with the LA Phil, but by being the first-call flutist in Hollywood who played on hundreds and hundreds of movies."
On top of everything else, Sussman also gives back to his community. In fact, his proudest accomplishment at Thornton is starting a nonprofit four years ago with a fellow freshman with the help of a Tarisio Trust Young Artist Grant. The String Bank collects strings from orchestras, universities, conservatories and professional musicians and distributes them to music programs at underprivileged schools. "Right now, I'm sitting on a huge pile of strings I need to sort and send," he said. "It's nice because this business identified a problem and implemented a solution that helps people play music."
Sussman will spend the next year performing as a freelance musician while doing cancer research at the Scripps Institute in his hometown of San Diego and applying to MD/Ph.D. programs.
"One of the reasons I chose to go to USC is that it is really the very best in the nation in music and engineering," he said. "I would consider that also when choosing MD/Ph.D. programs so I can take advantage of every opportunity to play music at the highest level. Perhaps one day I'll get a graduate certificate or master's in music as well."
Thomas Mellan, M.M. '19, Organ Studies
For Thomas Mellan, it must have been a surreal experience: being invited onstage during Cameron Carpenter's sold-out recital at Walt Disney Concert Hall in April to perform one of his own recent compositions, "Ballade de l'Impossible."
"The Los Angeles Times said my piece was 'manically unpredictable,'" Mellan said, "and I couldn't stop laughing because that describes me perfectly."
Mellan remains humble about the amazing experience and featured performance. It was just one of many highlights for this Thornton master's student who was also named Outstanding Undergraduate in 2017 as a double major in organ performance and composition.
Another high point was his invitation to Ukraine last summer. "They said I could play whatever I wanted, so I ended up playing three concerts on three consecutive nights, three completely different programs," he said, adding, "It was not as crazy as it sounds."
Mellan performed French baroque music and the Ukrainian premiere of Olivier Messiaen's Livre d'orgue. A television crew was there to cover it. "If you go to a place that's not organ-centric, then you feel like a celebrity — for about 8 seconds," he said, laughing.
As testament to his time at Thornton, Mellan counted his most significant highlight of the past two years "working with the people at USC on so many performances on campus, having people interested in playing my music and having teachers like Don Crockett and Cherry Rhodes teach me so much."
"Being around so many diverse, talented people makes me appreciate so many different ways of articulating thoughts musically that I never knew before," he added. "I'm always learning about being open to as many styles of learning and of music as possible. And I'm learning to be myself with other people, musically and as a person, because at USC I'm surrounded by these fantastic people who are encouraging."
For his Master's degree, Mellan did extensive research on French baroque music and completed some significant compositions while performing organ concerts in Europe. The latter was made possible, he said, because of his receipt of the Presser Award, which provided him valuable travel funds.
A native of Villeurbanne, France, who grew up in San Diego, Mellan has applied to the Paris Conservatory. But he's not sure of his next move.
"I'd like to split my time between the number one thing, which is playing organ concerts in Europe and America and hopefully the world, and also pursuing harpsichord and composition," said Mellan, who also studied harpsichord for two years with Lucinda Carver, vice dean of Division of Classical Performance and Composition at USC Thornton.
"I think the first order for me is to complete a bunch of projects with the organ that I haven't been able to complete as a student, and also pushing the technical possibilities beyond what I've been able to do so far," he said. "I think organ building is now at such a high level that it's possible to play much faster and much cleaner and much more expressively than ever before on this instrument. I think now is really the time to make progress with how we think of the organ and how we write for it."
Never miss a story
Subscribe to USC Thornton's e-newsletter
Subscribe