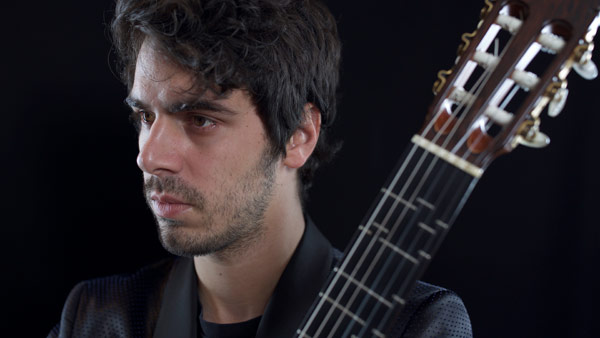 Arts Leadership Alumni Spotlight: Mak Grgić
Some people can never do just one thing. Artist Diploma student Mak Grgić MM '12, DMA '16 is an example of that, on steroids.
At 14, this Slovenian-born dynamo was a guitar prodigy and a youth world champion in sports karate. In his teens, Grgić was concertizing in Ljubljana, Slovenia, and Zagreb, Croatia (he split his week between the two cities all through high school) and competing in professional martial arts contests across Europe and Asia. He finally hung up his black-belt only after breaking his left thumb in a fight.
"That's when I decided it might be time to choose—that the two going parallel would be impossible," he said. By then, Grgić was attending the University of Vienna, where he had started out studying theoretical math. Music ultimately trumped both martial arts and math, but Grgić continues to push the boundaries of multitasking within music. These days, he divides his time between performing, recording and hatching wildly creative arts collaborations.

This past spring, he launched the Zagreb Guitar Festival with the goal of shattering the artificial barriers keeping guitar enthusiasts of all flavors apart. Spanish guitar legend Pepe Romero and jazz great John Scofield were among the headliners during a week of eclectic concerts, workshops, masterclasses and competition in late March.
Simultaneously, he was helping to launch the interdisciplinary Music & Arts ReSound festival in Los Angeles, an expanding network of festivals celebrating avant-garde music, applied arts and independent film.
Arts Leadership at USC Thornton
Grgić owes his festival-building chops to Kenneth Foster, who leads USC Thornton's new Arts Leadership master's program. He completed a pared-down version of the program as his minor concentration en route to his 2016 DMA degree. Foster mentored early Grgić projects, such as a downtown L.A. concert series and the Music at Rush Hour series at USC.
"Mak was one of the very first students to apply for the program when it started in 2013. His energy, his creativity, his willingness to take risks and his ability to do the work to make his ideas and dreams a reality are emblematic of the best students in the program and of the arts leaders of the future," said Foster.
Grgić dreams of someday creating the "ultimate interactive global collaborative experience" — a space where musicians, visual artists and audiences can "chime in" from all corners of the world via immersive media. No distractions. No travel or parking hassles. Just pure music.
"I think that's where the world is going," he said. "A few years from now, someone from Berlin will be able to plug in, form a matrix, put on a helmet, and go into this iCloud space—a VR alternative venue space—and enjoy music that's being played in Los Angeles."
Among a number of existing projects underway is a new inter-festival collaboration in Europe he'll announce later this summer. Grgić's life would be hectic if this were all he did. But it's only a fraction.
As a concert artist, he averages 85 gigs a year — nearly two bookings a week. A month-long tour recently took him to China, Japan and his native Balkans. He regularly plays in two duos—the Flamenco-style Duo Deloro and the new music-focused FretX—and he partners sporadically with jazz guitarist Igor Bezget. He just released a new CD, "Makrotonal," featuring microtonal new music performed on a zig-zag fretted Bach prototype guitar that captures the temperaments of the Baroque period. He has three other albums in progress, including a Naxos release called "Balkanisms" and an homage to Ligeti spotlighting gamelan-inspired guitar arrangements. He's on the guitar faculty at Mt. Saint Mary's University and directs the Elemental Guitar program in Santa Monica. He continues his own advanced guitar studies. In the fall, he'll begin USC Thornton's Artist Diploma track, becoming the first guitarist ever admitted to the elite program.

Overload isn't a problem, Grgić insists. "I feel the more you do, the more energy and stamina you get. One becomes stale and sluggish when the tempo is slow. When a plate is full and you're containing it, it's great."
Grgić still consults Foster on current projects like his latest crazy idea — piping music into a sensory deprivation chamber.
"How cool would that be?" he asks, his voice rising with excitement. "You're floating in water. It's completely soundproof and completely dark. The water is the same temperature as your body. Eventually you lose the sense of the borders of your body. All you're left with is your thoughts. How wonderful would it be if music was born in that zen state of mind? It's just your subconscious and the music comes out of nowhere. A brand new way of listening."
---
Click here to learn more about USC Thornton's new Master of Science degree in Arts Leadership — or explore all of our new Professional Master's Degrees.

Never miss a story
Subscribe to USC Thornton's e-newsletter
Subscribe