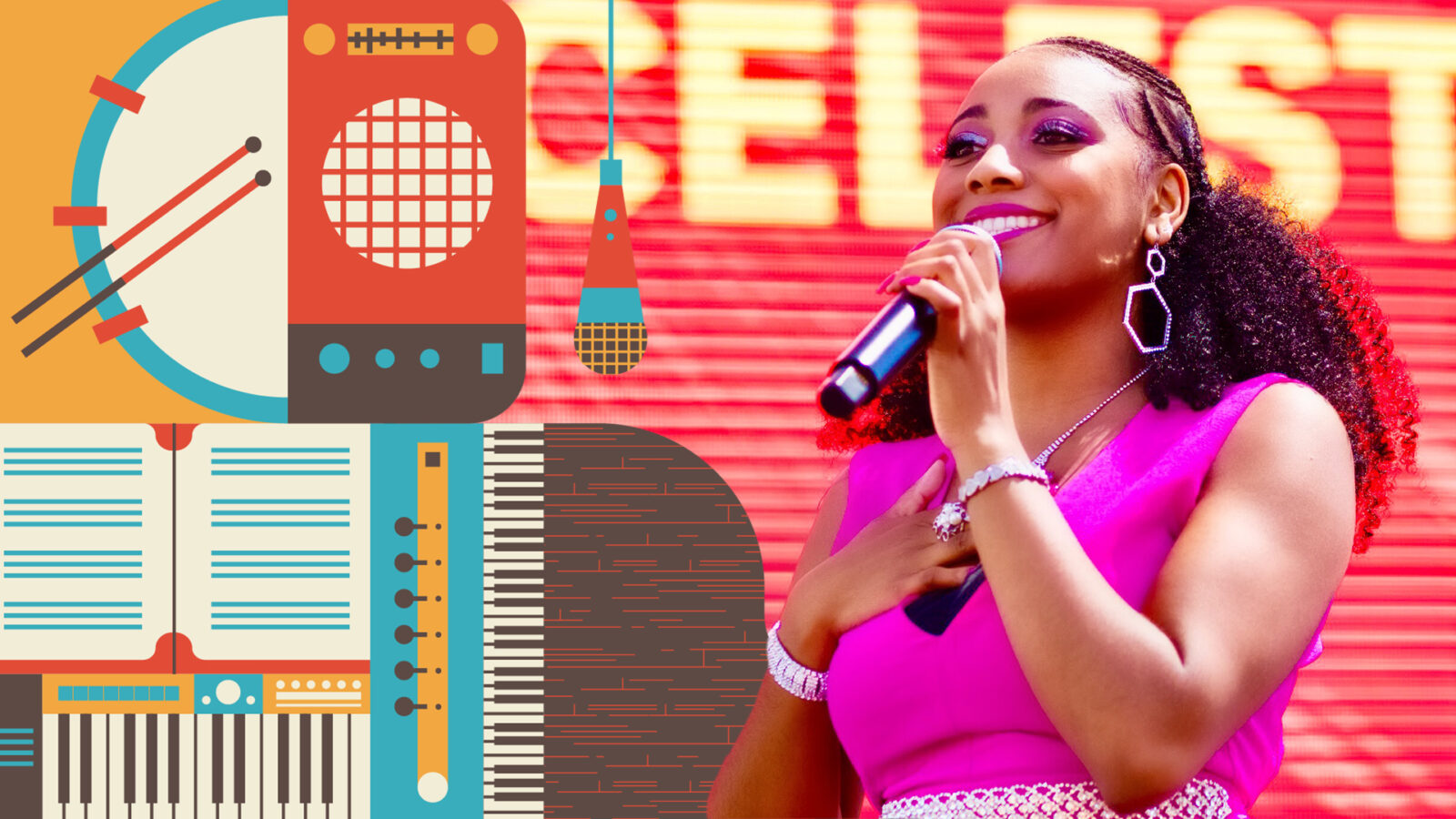 Designing Their Lives as Artists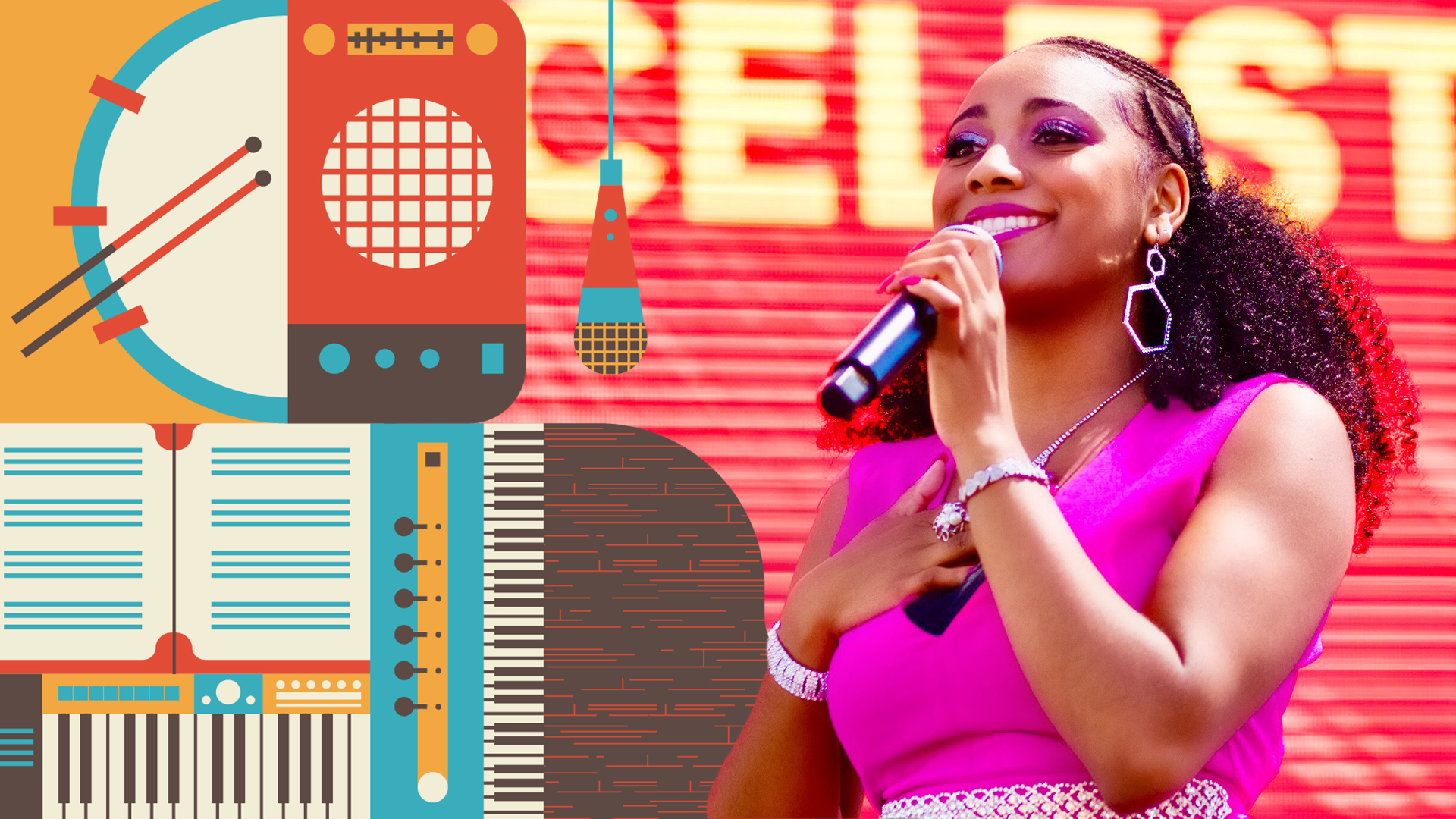 Innovators and entrepreneurs create their own path with USC's Arts Leadership program like alum Celeste Butler (above) who earned degrees in Popular Music and Arts Leadership.
---
Sustaining an arts collective in a former Soviet factory. Promoting underrepresented voices in popular media and art for social change. Creating a new program for teaching jazz. Building interdisciplinary partnerships in the arts. Developing a songwriting and mentorship program. Growing a circus company that saw critical and commercial success at a fringe festival. Taking a brass quartet on tour around Papua New Guinea. Combining podcasts and audible books for a whole new experience of literature.
These are just a few of the inventive and community-engaging initiatives undertaken by students in USC's Arts Leadership (ARTL) program — a graduate program that redefines how we think about and practice arts leadership in the 21st century. Entrepreneurial, individualized and  interdisciplinary, ARTL encourages driven arts innovators and entrepreneurs to bring their aspirations to USC and learn how to create their own opportunities. While situated in USC Thornton, the program is intentionally multi-disciplinary, drawing students from various artistic backgrounds, genres and ranges of experience.
"This is definitely not a career development program," Program Founder and Director Ken Foster said. "The Arts Leadership program is very entrepreneurial, in the sense that you get to design your own pathway around what you are interested in. It's about helping artists figure out how to make a life and a career for themselves."
Naturally, there is more than one way to accomplish that. Students can pursue an MS, an MPA in collaboration with the Sol Price School of Public Policy, or an elective field within their DMA. "It's emblematic of the idea of the program, which is highly individualized," said Foster, who is a nationally recognized arts leader with more than 30 years of experience as an arts administrator, curator, educator and performing arts presenter.
Students build their own curriculum, studying with Thornton faculty, professors in other USC schools and industry professionals. Core coursework covers the keys to helping artistic innovators build a sustainable organization, including mission, structure, funding and relationships. Theory is connected with practice in internships and the practicum course, where students bring a real project to life, engaging with faculty and their program peers to problem solve along the way.
Given the self-directed nature of the program, ARTL attracts students from marginalized populations. "It's the opportunity to do what they want as opposed to what they are told to do, which is rare," Foster said.
Since ARTL is nonprofit-oriented, there is a focus on helping students understand the connection, or disconnect, between artists, arts organizations and the communities they serve. In addition, Foster said, sustainable organizations need to respond to current issues and challenges in those communities.
"We start with the idea that you are living in a world of constant change," Foster said. "Students need to ask, 'How am I going to create an organization that will survive, that is able to adapt to a changing environment?'"
"Some of the big issues that we're facing change every year, but for sure we're talking about the economy, ethics, and race and ethnicity. We've been through the COVID nightmare, the George Floyd nightmare. A colleague who is a renowned orchestra director said to me, he just can't imagine going back and sitting in the concert hall with all white people watching all white people play all white music. We can't do that; that's not the world anymore."
That contemporary vision is another component that makes ARTL unique. "We don't want students to come out of the program with what they've learned becoming instantly obsolete," Foster said. "That's why we have made the distinction between a structured arts management degree and this program."
Foster's ideas have been tested in the so-called real world. Prior to joining USC in 2013, Foster was the executive director of San Francisco's Yerba Buena Center for the Arts, which he transformed into an internationally recognized center for contemporary art, performance and social activism. He has an active national and international arts consulting practice specializing in leadership development and innovative organizational design, with clients including the Los Angeles Philharmonic and the Wallis Annenberg Center for the Performing Arts. His 2018 book, Arts Leadership: Creating Sustainable Arts Organizations, details his vision for building sustainable models for creative organizations amidst political, economic and cultural challenges.
"A prospective student may ask of the Arts Leadership program, 'What kind of job is this going to prepare me for?' The answer is, 'It prepares you for your life as an artist,'" Foster said. "What we really want to do is give students the tools so that they can more easily design their own fate."
---
Richard Frank
Arts Leadership certificate courses 2014-2016
---
Project in the Arts Leadership program:
PlayTheGroove.com is a new, modern methodology for teaching secondary jazz education to students and teachers, using current jazz and world jams — a wholly different repertoire than you will find in schools today.
Why did you choose the Arts Leadership program?
I was excited to work with Ken Foster; it was a fabulous opportunity to work side by side with him. I wanted to focus on the challenges connected with Play the Groove. I wasn't 22 years old, and I wasn't looking for a general education. I was doing something entrepreneurial, and that was one of the fabulous things about Ken's program — the way that he was able to individualize it for me.
How did it help you achieve your goal or design your own life as an artist?
Ken's practicum course gave me an unheard-of amount of one-on-one time, and we talked through challenges in the small group sessions. Most importantly, I learned the tools I need to deal with upsets and the unexpected challenges that come up in a constantly changing world.
I was able to work with professors in different schools to get specific knowledge I needed. I did some directed research with Patrice Rushen in Thornton's Popular Music program. I took a Marshall School of Business class with Diane Badame, because I wanted to learn about international business and launching and marketing. I studied cultural diplomacy with Nicholas Cull at the Annenberg School, and that has led to my bringing in all this world music. I have licensed music from Finland, Germany, Bengal, India, Ghana, Guinea and Chile, as well as the United States. And because of my work at USC and my directed research studies, I got to know people in Finland, and I was invited for a two-month residency at the Sibelius Academy in the fall of 2019.
What are you doing now?
I am still incredibly engaged in my project after seven years. I put together an international virtual video with high school students from the U.S. and Finland, and a couple Thornton alumni played on it: Gideon Elson on ukulele and Isaac Lopez on saxophone. I'm also building out my website, working on the listening pages, where students and teachers can listen to songs, click on sample parts and see the sheet music, and teachers can view guidelines for how to teach each song.
---
Celeste Butler
BM 2018 Popular Music Performance / MS 2019 Arts Leadership
---
Project in the Arts Leadership program:
While I was completing my master's coursework, I was determined to maximize my learning and community involvement by working on projects that blended each of my areas of interest. Each of these projects were fueled by my passion for education, inspiration and unification through arts, entertainment and events.
Creation Against Barriers (CAB): My Arts Leadership capstone was centered around the development of my own company, Creation Against Barriers. CAB is committed to the promotion of underrepresented voices in popular media, the development of art for social change, and communal cultural and historical education through music, fashion, events and interdisciplinary projects. Recent releases include a video series, "Triumphant Thinking Thursdays," by Kathryn Butler, and "Rain," a music video by ChrystalChyna.
Earth Day Concert:I was assistant producer for Earth Day Concert at the Greek Theater featuring the King of Rai, Cheb Khaled, and the International Sensation, Andy Madadian. The show also featured world music guests, including Riffat Sultana, Elan Atias, KC Porter and Lynne Fiddmont.
Ultimate Vocal Music Summit: I was assistant producer for the Ultimate Vocal Music Summit, a three- to five-day summit for gifted young singers including workshops, vocal and performance coaching, media training, and an all-star showcase.
Harlem South: A View Through the Lens: I was producer of "Harlem South: A View Through the Lens," a multimedia performance that chronicles the dynamics of African American life in Columbia, S.C., through the photography of Richard Samuel Roberts. The show premiered at the GRAMMY Museum.
ACTIVATE Cultural Policy Fellowship: I participated in the ACTIVATE Arts Advocacy Leadership Program, an advocacy training and leadership development program launched by Arts for LA to effect change in communities across greater Los Angeles.
Umbria Jazz Tour (China):I provided background vocals for artist Bob Malone during a 10-day tour for the Umbria Jazz Festival hosted in Changsha, China.
Why did you choose the Arts Leadership program?
My undergraduate years at USC allowed me to explore a variety of opportunities that existed within the intersection of arts, entertainment and culture. In addition to my musical artistry, I was able to truly grow as an event producer, creative entrepreneur and community arts advocate. However, I felt there were still gaps in my knowledge and experience regarding nonprofit development. Fortunately, I found out about the Arts Leadership master's during my senior year, and after speaking with Ken Foster, I knew it was the exact program I was searching for. It offered the perfect blend of arts, entrepreneurship, and leadership theory and application.
How did it help you achieve your goals or design your own life as an artist?
The Arts Leadership program served as a training ground that stretched and strengthened my interests, passions and areas of expertise. It simultaneously existed as a safe space for learning and personal and professional growth. I particularly appreciated the hybrid educational structure that allowed for real-time application of concepts explored within the classroom. This approach propelled me into action, while giving me the practical support I needed to help me progress in the various projects I was involved in.
What are you doing now?
Right now, I'm heavily involved in a number of projects that have direct correlations to the education I received in the ARTL program. I use the tools, techniques and habits that I fostered during the master's every single day. These contributing elements continue to push me to be a better artist, entrepreneur and community advocate. In addition to my work with Creation Against Barriers (CAB) mentioned above, here are a few of the projects I'm working on that reflect that ARTL spirit:
Recording/Performing Artist & Songwriter: I was a contestant on Season 4 of American Idol, I recently released a new single, "No Peace" featuring Andrew Gouche, and I had a commercial placement with "Bubble."
Sugar Hill Arts Revival Project (SHARP): I am a creative consultant and project lead for SHARP. Developed between the Amazing Grace Conservatory, the Gailen and Cathy Reevers Center, and the USC School of Dramatic Arts, SHARP is a multifaceted initiative that sheds light on the rich arts history of well-known African American entertainers who resided in Los Angeles' Sugar Hill District during the 1940s and '50s.
Use Your Voice Global Collaboration (UYV): I am executive director of UYV. A global collaboration built upon the momentum created by 100 stellar musicians/artists across six continents, UYV galvanizes creators, music lovers and supportive brand entities to improve our local and global communities through the universal power of music.
---
Nikoloz Machavariani
MPA 2019 Public Administration and Arts Leadership
---
Project in the Arts Leadership program:
I worked on the project called Elektrowerk, which was an actual project in Tbilisi, Georgia. I started Elektrowerk together with my family and friends in 2015 with the mission of establishing a multifaceted cultural and educational platform on the grounds of a Soviet-time factory. Elektrowerk has several tenants, including a multifunctional arts venue, contemporary theater company, DJ school, and various workshops.
Why did you choose the Arts Leadership program?
I did my bachelor's in economics and law in Tbilisi, and by 2017 I already had several years of working experience in various fields of the private sector, including promotion, arts, trade, and real estate management. For my further education, I was looking for a master's program which would ideally provide me with competence in public policy and administration while advancing my expertise in the management of art projects like Elektrowerk. After researching various universities of the world, I came to find out that USC's master's program was the most suitable for me.
How did it help you achieve your goals or design your own life as an artist?
As a person who is constantly involved in creative, entrepreneurial activities, it was extremely beneficial to learn how to consolidate ideas and turn them into well-structured and formulated statements. I believe that having clear vision, mission and core values statements is critical to the long-term success of any project, especially a creative one. The ability to distill the general desires, ideas, and goals of people and organizations into such statements is priceless. I have used that ability to the benefit of not just Elektrowerk, but other complex, multifaceted projects as well.
What are you doing now?
Currently, I am the project manager of Elektrowerk while I am also working on several other smaller projects, mostly startups. My goal at Elektrowerk is to create as much synergy between various stakeholders and the platform as possible. This includes attracting new, suitable tenants, starting partnerships with private, non-profit, donor, and governmental organizations, and managing relationships with existing tenants. At the same time, I am working on the business model of the project while trying to find the right balance between the financial reality, which is currently pretty harsh due to endless lockdowns, and the platform's goals.
---
Bronson Foster
MS 2020 Arts Leadership
---
Project in the Arts Leadership program:
During my time at USC, my mission and research centered around the power of using interdisciplinarity as a way of innovating the arts and culture sector. I believe that by building meaningful engagement with partners not traditionally involved in our practices, we can develop mutually beneficial relationships that strengthen the cultural communities. This ultimately culminated in my thesis document and a prototype organization that created space for this philosophy and work to have a platform.
Why did you choose the Arts Leadership program?
Attending USC and the Thornton School of Music for this program was my first choice from day one. What makes this program unique is that you have ownership over your career trajectory and course design while having complete access to one of the highest-ranked universities in the world. The relationships you build at USC, paired with the fact that you are in one of the most vibrant and diverse cultural centers, are a combination that can't be matched. I knew that at USC, I would have support for my work and the vision that guides me every step of the way.
How did it help you achieve your goals or design your own life as an artist?
So many of us working in the realm of arts leadership are artists initially. For me, my passion is to create space and opportunities for communities to come together around the artist's work. Of course, I carry this value with me as an artist when I still practice. But being able to enable creative individuals to do their best work is the core of what I do. We get to make the world a more beautiful place – how great is that?
What are you doing now?
On the professional front, I recently joined the incredible team at the Long Beach Opera as Head of Experience & Partnerships. In this role, I oversee the experience design ecosystem for the organization while developing key partnerships with LBO's communities. When I am not working, I love to read, spend quality time with loved ones, and take in the remarkable world in which we all have the privilege to live.
---
Courtney Fortune
MS 2022 Arts Leadership
---
Project in the Arts Leadership program:
I founded a songwriting and mentorship program called Songmaker Sessions, which aims to encourage young and emerging professional artists to channel their unique voice through songwriting.
Why did you choose the Arts Leadership program?
I wanted to create a strong foundation for my organization. The Arts Leadership program has helped shape my vision, with a focus on social change, equity and effective leadership. I love learning from my colleagues. It feels like we're the next generation of changemakers in the arts.
How is it helping you discover the best ways to approach your project?
Arts Leadership has opened my eyes to the exciting potential of Songmaker Sessions. I feel inspired to create a more mission-driven organization that helps amplify the voices of my songwriters. Art and storytelling are such powerful tools for social change. Here, I've been able to workshop ideas, learn from professional mentors and explore the possibilities. I'm so grateful to Ken Foster and my Arts Leadership family.
---
The Arts Leadership program at USC is an innovative, artist-centric graduate degree program for artists, arts administrators and cultural entrepreneurs who want to expand their personal vision to create a meaningful and sustainable life and career in the arts. While situated in the USC Thornton School of Music, the program is open to all students from various artistic backgrounds, genres and ranges of experience. For more information, click here.
Never miss a story
Subscribe to USC Thornton's e-newsletter
Subscribe