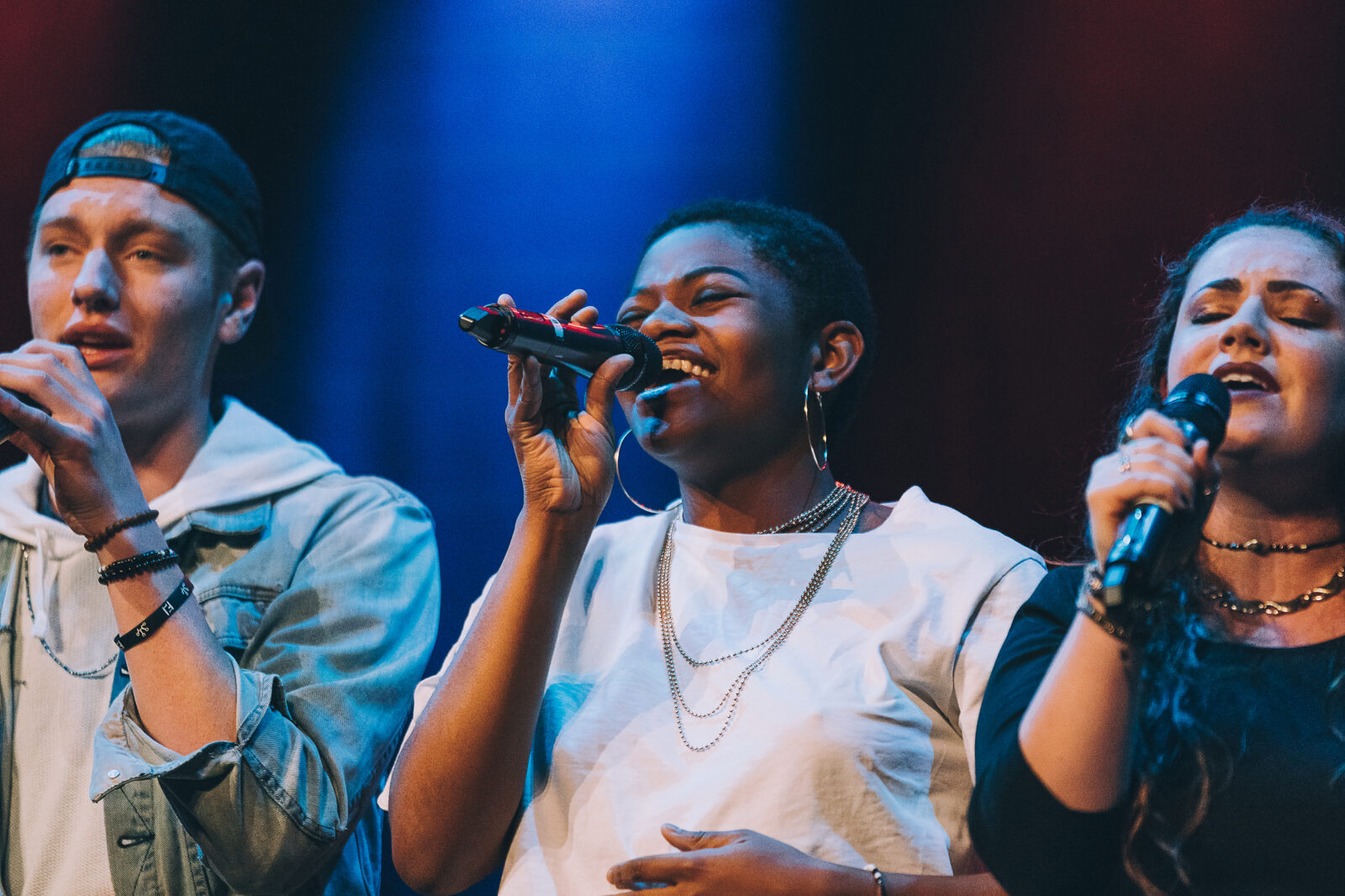 Blue Skies
Tehillah Alphonso, a senior in the Popular Music program, stays creative and optimistic while finishing her degree at home in Nebraska.
---
When Tehillah Alphonso couldn't perform for her senior send-off concert with the SoCal VoCals, USC's premiere a cappella group, she did the next best thing. In her Live! From Somewhere video, the senior Popular Music major created a virtual a cappella group out of nine tracks of herself singing Allen Stone's "Give You Blue."
The Live! From Somewhere virtual stage was launched by USC Thornton on March 16 to showcase students, alumni and faculty performing at home, where everyone remains under the "Safer at Home" directive. The moving and uplifting tune — "When your sky is gray/I will give you blue" — feels like it was handpicked to wash away the gloom caused by COVID-19.
But Alphonso (BM '20) actually chose the song before all the disruption hit. She planned to sing it with the SoCal VoCals at her final concert with the ensemble before it was cancelled.
"I had been looking forward to it since my freshman year," Alphonso said from her family home in Omaha, Nebraska.
Unsure when or if the concert will be rescheduled, Alphonso set up her laptop and mic in her bedroom — and sang. "I want to feel like I have a creative outlet and am being productive with all this 'kind of' free time," she said. "I arranged a small portion of the piece I would have done in the senior concert and modified it to fit in my range. And I posted it to my Instagram because I wanted to put out more stuff like that anyway."
She ends the video with a playful wink and a smile that can't help but turn your sky blue.
A Little Help From Her Professors
Her final semester at USC Thornton was supposed to be about focusing on life after graduation and getting as much session singing and arranging work as possible. Instead, two professional background vocal gigs she had booked — at Coachella and an Indonesian music festival — were also cancelled.
She's getting through with a little help from her professors.
"Our professors told us to take the time we need to grieve this loss of freedom, but once we get through, keep making music," she said. "They encouraged us to keep working our creative muscles so when we do get out of this we will be ready to go. So I've been heeding that advice and using the tools they've taught us over the last four years to stay as creative and productive and motivated as possible."
"I'm finally at a place now where I've accepted the way life is going to be for a while," she added, "but still, it is a bummer that my last months at USC are defined by having to be home."
Figuring It Out Together
Alphonso, who was business manager and music director for the SoCal VoCals last year, has been arranging for the group since freshman year, and with her experience making professional vocal demos for herself and the a cappella group, it didn't take her long to create her version of "Give You Blue." But for ensemble performers like Alphonso, it was a pale substitute for rehearsing and performing with her fellow students.
It's the same challenge she's finding with her performance-based classes shifting online, in her voice and piano lessons with Patrice Rushen, Chair of the Popular Music program, and in voice lessons with assistant professor of practice Jeffrey Allen. "In person, the lessons are so collaborative and based on face-to-face, in-person teaching, so it's been really hard trying to adjust to doing that online," she said.
Still, her outlook is positive: "Everyone is figuring this out together."
Professional Opportunities in Los Angeles
One of the reasons Alphonso chose to study Popular Music at USC Thornton was the location. "Los Angeles is the place everyone wants to be to pursue a full-time music career," said the singer, songwriter, pianist and arranger.
The professional opportunities started rolling in when she was a junior. She sent her vocal reel to contractors across the city, including well-known vocal contractor Edie Lehmann Boddicker, whose daughter is a senior Music Industry major at USC Thornton. Alphonso's first gig as a session singer was in a choir onstage with GRAMMY Award-winning singer-songwriter Dan Wilson as part of the Not Impossible Awards at The Theatre at the Ace Hotel.
Her list of highlights has continued. She sang in a choir on the film score for the Will Smith animated movie, Spies in Disguise. She sang in the choir for Pentatonix's Christmas album, A Pentatonix Christmas, on the track "Joyful Joyful," featuring Jazmine Sullivan. She even made an appearance on an episode of The Goldbergs that premiered a few weeks ago on ABC, playing a member of the fictional a cappella group, the Molly Singwalds.
A gig this past January was a chance of a lifetime for an undergrad: She performed at the 2020 GRAMMY Awards with Billie Eilish, who swept the big four categories and picked up a total of five awards.
She sang with a seasoned group of session singers, including many fellow Thornton alums. "It was crazy!" Alphonso said. "I kept telling myself, 'This is not real, this is not real….' Even now, I'm so blown away that I was given that opportunity."
"It was such a surreal experience because only recently I had discovered that singers can make a living doing session work," she said. "Then I started putting all of my energy and effort into trying to do that, and a year later, the GRAMMYs come up."
Finding Other Trojans
When Alphonso does get back to Los Angeles, she will resume her job as a cappella director at a local high school, work on more demos, do songwriting pitches, make learning tracks for different a cappella projects — just stay creative and productive — until the opportunities become available again.
She's looking forward to getting back to making music with her fellow Thornton alums. She already has a polished recording of one of her songs, "Don't Let Me Know," which she wrote for a class project, sang in a class showcase, and produced with Joey Messina-Doerning, (BM '19) a Music Production alum from Thornton. She also saw some familiar faces, two other Popular Music alumni, at the rehearsal for the Indonesian music festival.
"It was crazy seeing how real the Trojan network really is, and how everybody is thriving," Alphonso said. "As long as you have the work ethic and the talent to be in these places, then you'll find each other."
Never miss a story
Subscribe to USC Thornton's e-newsletter
Subscribe