Celebrating Chamber Music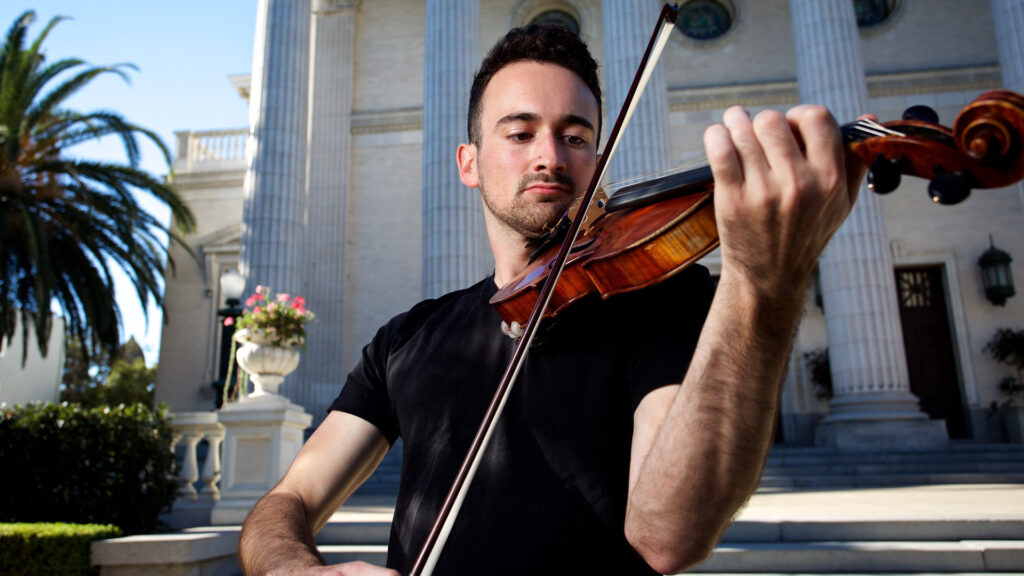 Students in winds & percussion, strings and classical guitar offer a series of performances from Nov. 29-Dec. 2 in celebration of chamber music.
---
Over the course of the fall 2021 semester, students in the Thornton Winds & Percussion and Strings departments and the Classical Guitar program have been preparing for USC Thornton's celebration of chamber music. This annual event showcases the talents of small ensembles over the course of a week and provides a unique opportunity for students to collaborate with their peers. It's an experience like no other in music, and it teaches the students key skills that they will take with them throughout their careers.
"The nature of chamber music necessitates teamwork, collegiality, mutual respect and emotional understanding of others. It's such a vital part of learning to be a complete musician," said Yura Lee, a strings department faculty member.

Winds & Percussion: Nov. 29, 5 p.m.
On Monday, Nov. 29 at 5 p.m., students from the Thornton Winds & Percussion Department open three days of music with a showcase in Newman Recital Hall that will also be available as a livestream on Thornton/LIVE. Students studying percussion will be included in the chamber music celebration for the first time this year.
"We usually have small ensembles consisting of woodwind and brass musicians taking part in our chamber music festival, but this semester we will add our talented percussionists to the mix. I'm really pleased about this because it ensures that our department is properly represented by all. We have some incredibly gifted students, and I'm looking forward to watching them shine through their chamber ensembles," said Sharon Lavery, chair of the Thornton Winds & Percussion Department.
What makes the chamber music showcase so unique is the opportunity that it gives students to connect with each other on a deeper level through music. Although many of them collaborate together on their own, the rehearsal process for this event encourages them to play together so often that a strong bond is formed among the ensemble members and they begin to learn from each other.
"You have to learn how people interact with the music – learning how they handle music, how they handle rhythm, how they handle intonation and all of these things," said trumpeter and graduate certificate student Svend Lykkegaard. "Learning the others' tendencies helps form the group's sound, and that's what's really hard. But also, you learn from seeing how other people do things. You learn to adjust so much, and you learn to listen."
Lykkegaard is part of a brass sextet that is performing two pieces to close out the Nov. 29 program. One is a piece by Canadian Brass member Caleb Hudson called "White Rose Elegy," and the other is the premiere performance of USC Thornton Screen Scoring program student Théo Schmitt's "Funk That Guy!"
Strings: Dec. 1, 7:30 p.m.
The Thornton Strings Department will continue the chamber music showcase on Dec. 1 at 7:30 p.m. in the Newman Recital Hall and on Thornton/LIVE. They will be performing a variety of pieces including Antonín Dvořák's Terzetto in C Major, Op. 74 and "L'Histoire du Soldat" by Igor Stravinsky.
"Our strings department students have worked so hard to explore, learn and master some of the best music written for our instruments. The chamber music showcase presents the culmination of their work this semester and celebrates their music making," said Lee.
During the preparation process, some students have found that chamber music allows for a distinctly different experience as compared to other forms of collaboration such as orchestral performances due to the more intimate sizes of ensembles.
"Chamber music is my favorite type of collaboration because it has both personal expression and conversation. I am currently in a quartet with three of my friends, and it is a joy to be able to share life with them and then continue our conversations through music," said Madeline Sheard, a cello performance student

Classical Guitar: Dec. 2, 7:30 p.m.
The last performances of this celebration of chamber music will take place on Dec. 2 at 7:30 p.m. in the Newman Recital Hall and Thornton/LIVE with a recital from students in the Thornton Classical Guitar program.
Classical guitarists don't often have the chance to play together in groups, as they typically perform either as soloists or accompanists to other musicians such as vocalists. This event gives them the opportunity to collaborate with each other in groups made up of mostly guitar players.
"As guitarists, we're so used to being a solo instrument, so we don't really play with other instruments that often. And we certainly don't play with orchestras – it's not part of our training," said classical guitar senior Nolan Juaire. "So, unlike the violin or other orchestral instruments, which are always learning how to blend in with a group and match other musical phrasings, we have to learn that a little later in the game. That's been both a challenge and something fun to learn."
In order to connect with group members when playing in a smaller ensemble, students listen for balance, watch their groupmates for cues and stay in tune with the entire group. The supportive environment solidifies a sense of trust among musicians.
"In a duo, it's even more connected, even more intimate. You're kind of playing as one person. You're breathing together," said Doris Cosic, a senior in the classical guitar program. "If we have the music memorized, then we just look at each other and add the guitars. Sometimes, I watch my partner's fingers when he plays so I play at exactly the same time. I feel more secure playing with someone that I trust than alone."
One part of the classical guitar program's chamber music recital that is sure to be a highlight of the night is the guitar orchestra. This ensemble is made up of a combination of classical guitar minor, major, undergraduate, graduate and doctoral students, and every year, it closes out the program with a memorable performance that truly captures the collaborative spirit of chamber music.
"We always finish the program with the guitar orchestra, which we've had here for many, many, many years," said Scott Tennant, chair of the Thornton Classical Guitar program. "One of the other faculty here, William Kanengiser, has been the director of that since it started, and that's always been a special event."
---
USC Thornton will present three nights of chamber music from Nov. 29 – Dec. 2. The events are open to limited audiences based on fluctuating health and safety guidelines, and RSVPs are required. The concerts will also be streamed live on Thornton/LIVE, Thornton's virtual stage.
Never miss a story
Subscribe to USC Thornton's e-newsletter
Subscribe