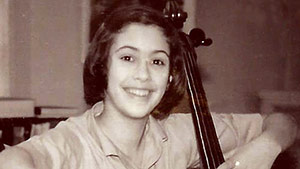 PICF '16: Cello Stories, Part One: Karen Steinbach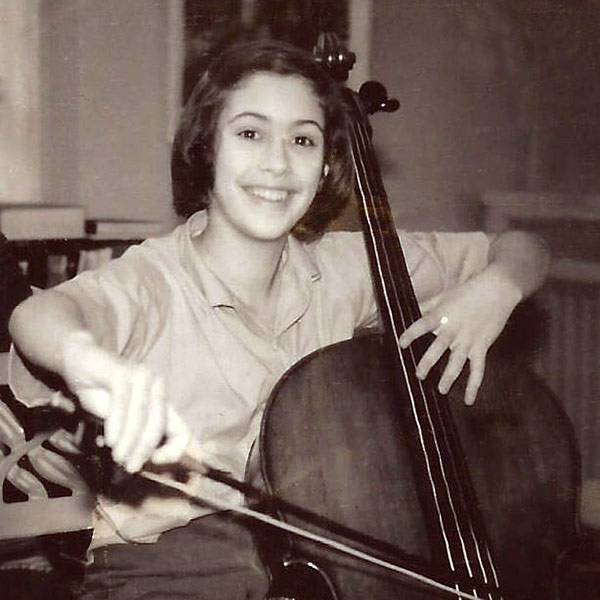 This year's Piatigorsky International Cello Festival plays host to a wide variety of professional cellists and composers. For this series, "Cello Stories," we turned our attention to the Festival's audience members.
Karen Steinbach, teacher, nature lover and tennis buff, has had a long history with the cello from her upbringing in California to her life in Jerusalem. As a young girl she started playing the cello and continued playing into her twenties; now, in her retirement, she has taken up the instrument once again. It has been an on-and-off relationship, so we decided to ask her about some of her favorite moments along the way.
---
We're amazed at how festival attendees come from around the world and from
such interesting backgrounds. Can you tell us a little about your background and where
you're from?
I came to Israel to work on a kibbutz for 6 months, over 40 years ago! It was quite
different then! I grew up in several states, but loved California best. High school in Palo Alto, then attended college in Berkeley and Santa Cruz. Studied for an M.A. in Special Education, while working in the field, mostly with kids with learning and language disabilities. In Jerusalem, after teaching for ten years, I directed our network of intensive special kindergarten frameworks for 25 years.
And about my cello worship, in spite of a 30-year break, I returned a few years ago to playing with greater understanding and sensitivity, now proving this in the wonders of studying again.
What first got you interested in the cello?
Silly, but it's because at age 10, when I asked for a clarinet at the school music program, they were all out. Remembering that my mother had said that cello was a beautiful instrument, I ordered a cello. It was made of metal and the edge was bent and it was quite heavy, but it sounded great to us! I was small for my age and had to push it in front of me down the long school corridors, but still loved it. The bottom back of the case became exceedingly dirty of course – can still visualize it.
I continued learning and playing and at age 15, I was deeply influenced by two most formative listening experiences – the records of Pierre Fournier playing the Saint Saens and the Lalo concertos, and Rostropovich playing the Schumann and the Dvorak concertos. So there, hooked for life!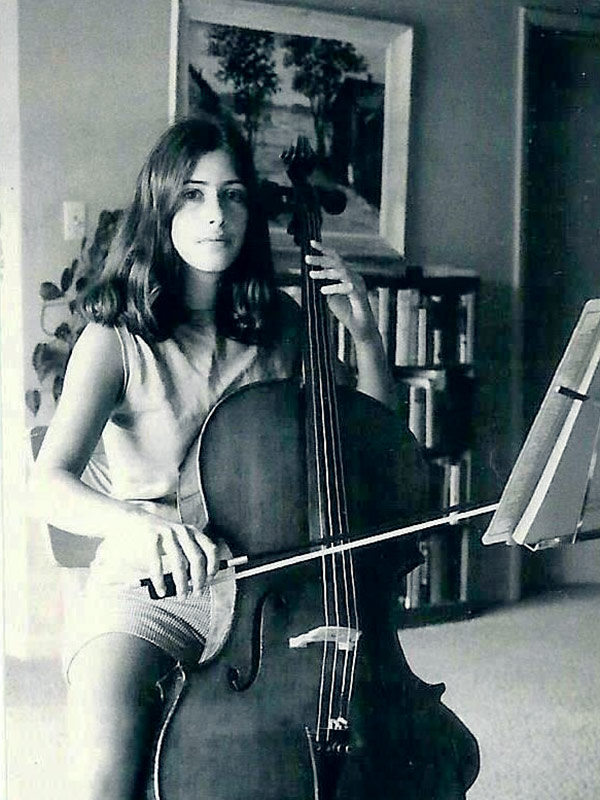 Is there anything about Los Angeles in particular that you're looking forward to?
Hard to say, except for the excitement of being in such a famous city. Also very happy about seeing the University of Southern California, especially because my gifted orchestra partner from high school went right on to study there with Gabor Rejto who taught at USC from 1954 until his death in 1987.
Do you have a favorite cello story?
I do have one, a very sad one actually, about someone that Ralph had known when studying with the cellist Aldo Parisot in New Haven. Many years ago Aldo Parisot came to Jerusalem and I attended his master classes. At one point, when teaching a student and warning about the importance of fitting the cello's dimensions to the body of the person playing, he related a story about a very fine ex-student of his who had been the first cellist of a well-known symphony orchestra.
This man had to abandon performing at a certain stage, said Parisot, because of his playing a cello which was too large for his hands. Mr. Parisot told us that unfortunately he "ended up becoming a cook."
When I went afterwards to ask Mr. Parisot about my stand partner in a summer youth orchestra in Amherst who was then studying with him, (we were 13-14 years old – over 30 years before this) he told me immediately, "That was the very cellist about whom I told the sad story!"
What a tragedy, no?
Which Festival event are you anticipating the most?
I'm actually most excited about attending the Master Classes. Also am sure to love hearing the Recitals, and of course, seeing and hearing live Yo-Yo Ma, Truls Mørk, the Emerson Quartet, and the other featured artists, both those I've heard either live or in recordings (about 10) and those I hope to become acquainted with.
I'll be arriving too late to hear Ralph Kirshbaum, your Festival artistic director, however, I've had the most wonderful experience of hearing Ralph give 3 days of master classes in Jerusalem last year, as well as two concerts playing all the Beethoven Sonatas.
I shall be especially pleased to hear again the Israeli cellist Amit Peled as well as two Israeli "fellows," Michal Beck and Haran Meltzer, who will be participating in the master classes.
---
Tickets are now on sale for the Piatigorsky International Cello Festival (May 13-22).
Never miss a story
Subscribe to USC Thornton's e-newsletter
Subscribe